Instagram Accounts to Follow to Boost Mental Health
The following Instagram accounts are good sources to learn more about mental health, find affirmations, and be inspired by the stories and resilience of others.
@victoriagarrick. Victoria Garrick is a former D1 USC volleyball player and mental health and body-image advocate. She gets candid about her struggles with anxiety, depression, and an eating disorder and how she has overcome them, inspiring followers along the way. She is also the host of the podcast @realpod where she encourages people to be their authentic selves on social media.
@thehiddenopponent As if Victoria Garrick couldn't get any cooler, she also founded The Hidden Opponent (THO), a non-profit raising awareness for student-athlete mental health and empowering "athletes to face the hidden opponent." THO shares testimonies from athletes across all sports, schools, and divisions, with the goal of empowering athletes and letting them know they aren't alone in their struggle.
@wetheurban Posting affirmations centered on empowerment and appreciating the change-makers of past, present, and future, WE THE URBAN is a black-owned account "celebrating inclusivity, self-love, & marginalized voices."
@happinessproject The Happiness Project's goal is to elevate happiness throughout the world and educate on mental health. They also sell merch, of which, 15% of the profits are donated to NAMI (National Alliance on Mental Illness) to fund mental health research. They also run a happiness text reminder chain! Subscribe to it by texting "happiness" to 72599.
@blcksmth Blowing up in popularity over the summer when a post of him circulated saying: "I don't know how to explain to you that you should care about other people," Michael James Schneider offers reflective messages in the form of photos of him standing next to messages spelled out in balloon letters.
@linday­_fleminglpc Lindsay, a therapist from Chicago, is a budding TikTok-er with over 400k followers on the app. Lindsay is a relatable ear and she provides self-care tips through her TikToks and Reels. She also recently debuted her podcast "Hey Linds"!
@headspace & @calm These accounts linked to widely popular meditation apps, Headspace and Calm, share affirmations to help keep people grounded and in the moment. Head over to the respective apps for some calming guided meditations to help with sleep and anxiety.
@werenotreallystrangers We're Not Really Strangers is a card game focusing on getting to know each other on a deeper, more meaningful level. It focuses on self-reflection and getting past surface-level conversations. They have a powerful presence on Instagram, posting reflective messages and quotes encouraging people to get vulnerable with others and themselves.
@morganharpernichols Morgan Harper Nichols, known as "MHN," is an amazing poet and graphic artist. She produces beautiful, self-reflective poems with amazing visuals to accompany them. The poems and reminders center on resilience and finding motivation through your struggles.
About the Writer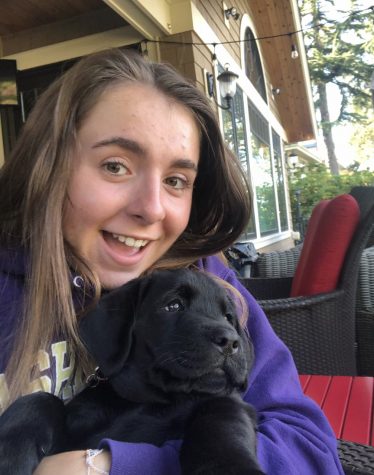 Kate Ridgeway, Managing Editor
Kate Ridgeway is a junior at Seattle Prep and she is co-Managing Editor for The Panther this year. Kate is an avid laxer and golfer but unfortunately has...