Live, Breathe, Creed 
Michael B. Jordan Makes Directorial Debut with Creed III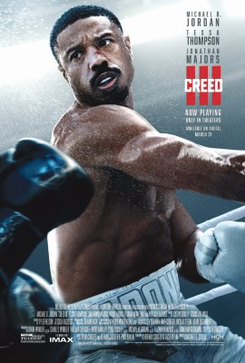 Ambitious, electrifying, swaggy. These are all words that can be used to describe both Michael B. Jordan and his most recent film, "Creed III". Unlike the other two Creed movies, not only is Jordan the star of "Creed III", but he also directed the movie himself.   
The first Creed movie was mainly about the relationship between Rocky and Apollo, and the second about Adonis Creed coming out of his father's shadow. However, the third movie differs from the first two as it stands mainly on Adonis Creeds shoulders. It begins by going back into the past and uncovering childhood trauma and transformative years that shaped the character Adonis has become. It explores many ideas specifically parenting, therapy, toxic masculinity, forgiveness, and love.   
"Creed III", along with the other two films, also continues to portray the underdog spirit, where one goes through hardships and rises from ashes to reach the mountaintop. This makes the film especially relatable for its viewers as life is hard and throws obstacles and everyone. "Creed III" shows how these obstacles can be encountered, how they can be difficult, and yet how they can be conquered.   
Jordan described in an interview with American radio DJ, Peter Rosenberg, that "one thousand percent there are things in the role of Adonis Creed that have a direct tie to my personal life." Coming from Newark, New Jersey, Jordan relates to the character of Adonis Creed in various ways and believes that anyone who comes from a place like he does can deeply relate to the character as well.   
In his interview with Peter Rosenberg, Jordan also said, "We gotta be better, especially for the next generation. So as much as I can lead by example and squeeze every drop out of this thing called life that's what I'm gonna do." As a director he is no longer a part of someone else's vision- he is instead able to share his own vision with the world. With this vision, he strives to make others see exactly what he sees and described to Peter Rosenberg that he finds this process to be "really satisfying." The story of Adonis Creed is one that can both motivate and move people and Jordan's dedication towards it sheds significant light the idea that no dream is too big, no vision too unrealistic.   
This directorial debut has made him an actor, producer and director. In the film "Creed III," viewers are taken on an emotional journey shown through the work of the one and only Michael B. Jordan. There is so much to appreciate about him: he's successful, multifaceted, and most importantly he stays hungry. He has the desire to keep making change and to be the best version of himself he can be. He stated to Peter Rosenberg that he is eager (as are his many Creed superfans) to continue expanding the Creed franchise, "one step at a time, once punch at a time, one round at a time" as Rocky Balboa would say.