Online Vs. In-person: AP Exams Edition
The blooming of flowers and falling of cherry blossoms not only signifies the transition to spring, but for many students, it also signifies the start of AP exam testing. This year, scheduling looks a little different. All students have the option to take their AP exams in person at a date in early May, or online later in the month. For some students, like senior Lydia Gauvin, the decision to take AP tests in person was an easy one. When asked why she decided to take her AP tests in person Gauvin stated, "I wanted to practice taking tests in-person to prepare myself for college because we have had so few in-person tests this year."
While it's safe to say that most Prep students appreciate the opportunity to take AP tests in person, for many the decision to take them online is a result of scheduling conflicts. Senior Olivia Manning takes multiple AP classes, two of which had exams scheduled for the same day. "I'm taking my AP Gov. exam online because I didn't want to do AP Gov. and AP physics back to back on the same day," said Manning.
Manning is not the only Prep student to choose an online exam due to scheduling reasons. Jack Matter '21, originally scheduled to take one of his AP exams online because of a conflict that he thought it had with another AP test. Later after realizing there was no longer a conflict, Matter "tried to switch to in-person, but it was too late to make the change."
Another significant factor to deciding between in-person or online could be the class that the exam is for. For example, while about half of Mr. Arthur's first-period AP U.S. Government and Politics class is taking their exams online, the entirety of Mr. Mitchell's second-period AP English Literature is taking their exams in person.
At the end of the day, Prep students are extremely lucky to have the opportunity to take AP tests in person this year, as many students across the country are not even presented the option. Even though there might be structural differences between the online and in-person AP exams, having access to both provides Prep students with the opportunity to demonstrate the knowledge they have been working all year to develop.
About the Writer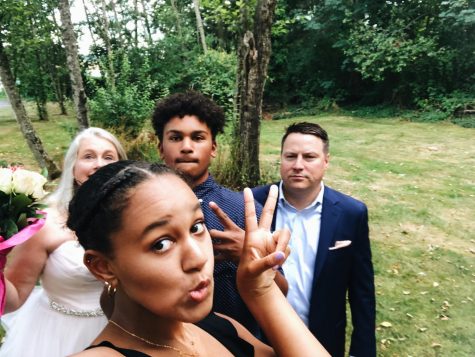 Maya Shields, Staff Writer
Maya Shields is a senior at Seattle Prep and is very excited for her second year as a staff writer for The Panther. She leads the Environmental Alliance...