Hydrate or Diedrate
Everyone seems to have a preference for bottled water brands, but why is that? Isn't all water supposed to taste the same?
Actually no, it isn't. Bottled water brands source their water differently, including it being filtered tap water or spring water. Each source can supply the water with various minerals that provide it with a unique taste.
The Panther thought it would be interesting to test what type of water Prep students, faculty, and staff enjoy the most. To keep opinions unbiased, it was a blind taste test with four different water brands being tested:
PathWater, also known as "Prep's cafeteria water," is filtered California groundwater.
Fiji Water, is from an artesian aquifer in Fiji.
Smartwater, is British vapor-distilled water infused with electrolytes.
Arrowhead, is sourced from a mountain spring in California.
Test participants were told to rank the waters from best to worst. Out of the nearly 30 testers, these were the results:
Most Liked:
#1 PathWater 54%
#2 Fiji Water 19%
#3 Smartwater 15%
#4 Arrowhead 12%
Most Disliked:
#1 Arrowhead 50%
#2 Fiji Water 27%
#3 PathWater 17%
#4 Smartwater 6%
All those who unknowingly ranked Arrowhead as their least favorite out of the group were also asked to describe its taste. Abby Wilwerding '22 fittingly commented that it "tastes like that nasty Arrowhead water." Later, when told the water was indeed Arrowhead, she added "Arrowhead is like that one dish at Thanksgiving that nobody likes but is there EVERY SINGLE YEAR! How is it still in business?!" Jane Hurley '23 shared hatred for Arrowhead saying it "tastes like pool water." Ms. Fields added "plasticky" and Wyatt del Valle '20 simply said "ew".
Turning to the frontrunner, Prep cafeteria water, PathWater, was described as "crisp, cold, and yummy" by Jayce Woodward '22. Wilwerding added, "it tastes like it ran through a freshly cleaned Brita filter, delicious." "Pure, smooth-sailing" was how Emi Nakata '22 put it.
People can get very defensive about their favorite water brand, ruthlessly bashing other types, as shown in the blind taste test. This is similar to the battle between reusable water bottle users versus those in favor of disposable plastic water bottles.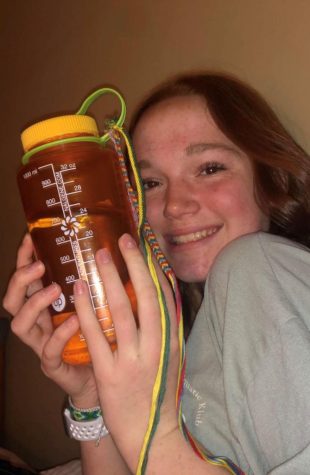 Seattle Prep has made an effort in being more environmentally friendly by encouraging reusable water bottles, and many students turn to Hydro Flasks or Nalgenes. Maria Smith '20 said, "I drink my refrigerator water and three hydro flasks every day!" The same is true for "avid water drinker", Kennedy Klein '22, who, according to her, drinks a "fudge ton" of water, more specifically "like 3 Nalgene water bottles a day!"
Klein shares in the belief that reusable water bottles are the only way to go, saying, "Bottled water users harm the planet with the plastic they are using but also with their lack of common sense." Nora Conaty '22 added to the reusable bottle hype with, "Having a reusable water bottle can be fun! You can decorate it, skip class to fill it up, and it keeps your water so much colder than a plastic water bottle!"
Drinking water is extremely important for people's health and no matter the preference it appears students are taking the step to drink enough water each day.
Fortunately, according to community opinion, Prep offers a popularly tasting water, in a 100% recyclable and reusable bottle (unlike that "nasty Arrowhead water"): PathWater!
Hydrate or diedrate, Seattle Prep!