Howard '18 Participates in Seahawks Crucial Catch Coin Toss
Hang on for a minute...we're trying to find some more stories you might like.
Prep families who tuned into CBS on Sunday, October 29th at 1:05 for the Seahawks vs. Texans game may have recognized a familiar face on the screen. Seattle Prep senior Bridget Howard had the honor of walking out onto the field alongside the team captains for the Crucial Catch cancer awareness game coin toss after her main physician at Virginia Mason provided her with the opportunity.
Howard '18 was diagnosed with pre-B cell acute lymphoblastic leukemia on September 12, 2014 during her freshman year. Three days after the shocking news reached her family, she started going in for chemotherapy treatment and was in remission within a month. However, a threatening lung infection left her going to the hospital every day for three to four hours to receive infusions. As a result, her immune system was not strong enough to continue with strong regular chemotherapy while fighting the infection. In order to prevent a relapse, she needed to get a bone marrow transplant on August 7, 2015.
This struggle with cancer and its effects left her in and out of school for 9th grade, and then completely out of it for 10th grade. Howard explained that she could not go to large public spaces for a year because her immune system was poorer than that of a "newborn baby." She was forced to take online classes until she could return in junior year, and at one point was in the hospital for graft-versus-host disease (GvHD), since the donor cells from her transplant had caused complications with her own cells. Howard said, "I was used to walking my dogs twice a day, but I would just stand up and be out of breath."
Despite these setbacks, Howard maintains a relatively positive attitude towards her high school experience. She explains that she had fun times in the hospital and even hopes to go into nursing one day, but that it was "difficult at times because [she] just wanted to be a regular teenager." However, returning in junior year made her really appreciate school and the opportunity to be around friends again.
To be at this weekend's game, which was dedicated to cancer patients and cancer survivors, was a wonderful experience for Howard and her family. Howard's older sister even drove down from WSU to support her. Howard and her family arrived at Century Link Field at 8:30am to rehearse walking onto the field at halftime with other survivors and families. They then sat in a VIP section for the game. Howard, who was visited by Russell Wilson, Doug Baldwin, and Steven Hauschka in her hospital room, shook hands with more players and even with Peter Carroll. Though it is rare for someone to be given the coin after the toss, Howard was invited to take it home. She joked afterwards that she could "never go to a Hawks game again" because nothing could top the thrilling 41-38 win she got to be a part of.
Needless to say, the Prep community can certainly be proud of Howard for that which she has overcome and for, as Julia Ribas '18 said, "the joy that she brings to school every day." This experience not only gave Howard an opportunity to be inspired, but to inspire others with her strength.
About the Contributors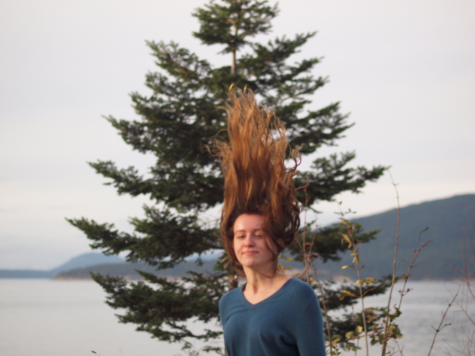 Annika Bjornson, Editor in Chief
Editor-in-chief Annika Bjornson is excited for her fourth and final year writing for the Seattle Prep Panther. This unicorn-at-heart loves dancing, Frank's...