New Faculty Profile: Hannah O'Brien '13
Basic Info:
What are you teaching/working on at Prep?
I will be teaching two sections of Biology with Freshmen and three sections of General Physics with Juniors and Seniors!
Where did you grow up?
Originally born in Georgia and bounced around a bit before settling into West Seattle in 2000, months before the big earthquake!
What College or University did you attend?
I went to University of Portland, Go Pilots!
More About You:
What was the highlight of your summer?
I nannied my two younger cousins who are 11 and 8, it was great getting to spend so much time with them!
How did you spend your time during quarantine?
I watched a lot of TV (go Vampire Diaries) and read a fair amount as well (The Martian was an amazing book). Then I was watching and playing with my cousins throughout the day.
Who do you admire (famous or not famous)?
The older I get the more I admire and appreciate my parents for what they have done for me throughout my life. Our relationship has shifted as I left college and I am very grateful to have them in my life.
What was your first job?
My junior year I started working at a Starbucks store. One afternoon to evening shift a week and one full weekend shift then during the summers I would work full time. I loved it!
What is your favorite movie or TV show?
Favorite movie is too difficult, and I refuse to pick: my fandoms are Harry Potter and Marvel! For TV shows it used to be Friends which I still love but West Wing is a show I can always watch and brings me comfort right now.
What is your favorite book?
The Short History of Nearly Everything, by Bill Bryson
Do you have any hidden talents?
…they wouldn't be hidden if I told you
Your High School Experience:
What was the most popular song during your senior year of high school?
Call Me Maybe was a solid 2012 jam and with Wrecking Ball coming in as a solid replacement in 2013
What career did you want to pursue in high school?
I've always wanted to be a teacher! My amazing science teachers at Seattle Prep showed me that I wanted to teach science!
Can you remember any slang terms people used when you were in high school?
"Hella" was common, "you're trippin'", "that's bomb", "my bad" are common ones
What is some advice you would give to yourself in high school?
This is said all the time but it's true – just be yourself and don't give other people control of how you view yourself.
Random:
What superhero do you most identify with?  Why?
Identify with is tough, my favorites are Iron Man and Thor!
What is your favorite type of sandwich?
Is a hot dog a sandwich….
What preparation of potato are you? (fries, baked, sweet potato, hash, etc.)
FRIES, and then scalloped potatoes if we are going fancy!
Your intro song if you had a TV show about you?
Girls who Run the World
What is your favorite word?
Plethora
Thoughts on Tik Tok?
Too easy to get addicted to it lol
If you could arrest a person for something that annoys you (but isn't necessarily a law) what would it be?
Slow walkers, or standing in the MIDDLE of the hallway
What is a skill that you wish you had?
Whistling
If you could go anywhere in the world, where would you go?
I really want to go to the Galapagos Islands!
Complete the sentence:
I'd love to go back to…
Australia! I studied abroad there in college.
I have a phobia of…
I default to big spiders because I conquered my fear of rollercoasters!
If I weren't working at Prep, I'd be…
Dream job if I wasn't a teacher and never had to worry about money would be a professional Stage Manager.
This year, I am excited for…
Super excited to be back to Prep as a teacher and get to know the current group of students!
About the Writer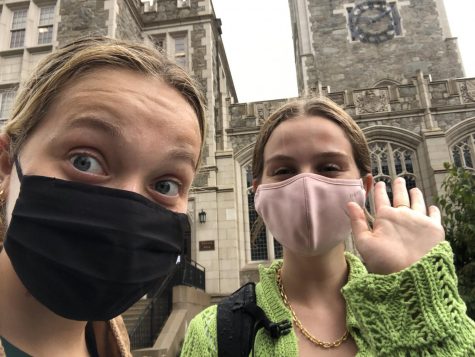 Cece Brown, Visual Editor
Cece Brown (sometimes known as Cecil) is a senior at Seattle Prep and she is a Co-Visuals Editor this year. She has been on the staff since sophomore year....