Seniors Give Juniors College and Senior-Year Advice
With COVID-19, current juniors may find adversity in transitioning into their last year of high school. These seniors offer words of guidance for the junior's upcoming year.
Marli Bosler '20: For college, "it's your process. Not your friend's. Not even your counselor's. You are going to get a lot of advice—really think about whose opinions you will take to heart, but yours should always be the most important. The more confident you are in yourself during this process, the less that outside stress will get to you. Your perspectives will change, and that's okay. It's different for everyone, but it works out for everyone. Try and channel nervousness into excitement about this next stage!"
Dean Abenojar '20: "Drop any hard feelings or tensions with anyone during your senior year. This is supposed to be the best year of your life during high school, and it would be horrible if there was a conflict during this time. So, if anything, take this time to make amends and reach out to others. That way, you can feel confident and happier in your senior year."
Ally Green '20: "Be super productive during your free period(s) during your first semester because it will make you feel way less stressed after school and will help you make more progress with your applications. Second semester, go out to lunch with your friends during your free!"
Colleen Leahy '20: "Appreciate it as much as you can! There are so many things I miss at Prep now and will miss next year, including my friends, teachers, sports, and even the cafeteria cookies. So, enjoy all these things and more during your last year at Prep! I would also say to take advantage of the resources we have at Prep like the writing help for college essays. Ms. Leaverton helped me out a ton with my essay and supplements!"
Remo Aurand '20: "Tour a college even if you are just thinking about it. I know right now with corona it probably isn't possible, so take virtual tours! Take 3-D tours of the campus, attend virtual meetings and presentations because this will all help you narrow down your college list. Moving to when you actually start your application, start earlier than later! Even in the summer before senior year! It's good to have a head start so that you are not overwhelmed in the fall- you want to have time to enjoy it!"
Liv McAuslan '20: "Reach out to friends, parents, guardians, counselors, whoever it may be if you ever need support! I read this story during my senior year about all these ducks in a pond and it totally relates to the college application process. On the surface, ducks look as if they are floating peacefully and effortlessly, but underneath the water, they are constantly paddling and working to stay afloat. It may seem as if your peers have it all together, but really, everybody is working through the same process. So, reach out! You may find support where you least expect it."
Jonathan Driscoll '20: "Don't get discouraged, either in classes or when applying to colleges. Getting a bad grade or getting deferred from a college isn't the end of the world, and there will always be opportunities to make these things up in the future. My first-choice college deferred me at first, and then accepted me a few months after, so don't lose hope just because something bad happens :)"
Marianna Santos-Magee '20: "Really cherish the moments you have at Prep.  Whether it's seeing underclassmen while walking in the hallway, a funny moment in class, or you first last Back to School Assembly, these moments make up such a great year in your life.  Even though the first months of senior year can be super stressful and tiring, once you get towards the end, you will wish to be back to enjoy more time with your classmates and the community at Prep."
About the Writer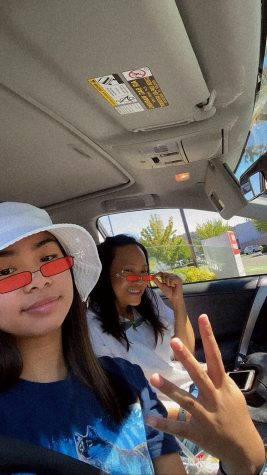 Tia Flores, Online Editor
At a staggering 5' 1 ¾", senior Tia Flores is absolutely thrilled to return for her fourth year on The Panther as co-Online Editor. In her spare time,...