Coffee House: Beloved Triannual Prep Tradition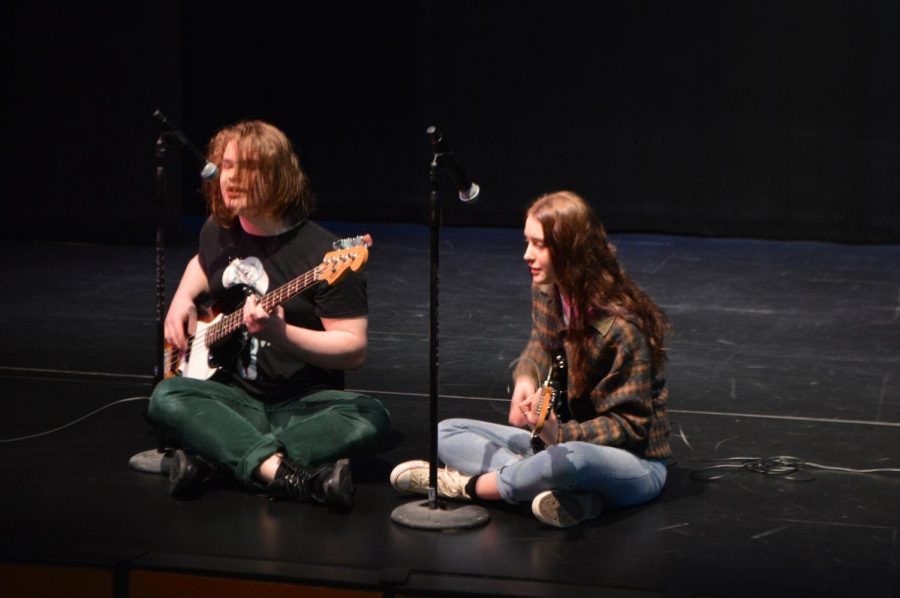 Three times a year, students pack into Prep's Fr. Thomas Healy, SJ theater and chapel to celebrate their peers and Prep staff as they display their talents at Coffee House. According to Prep's director of diversity, Coach Scott, the staff coordinator of Coffee House, this highly-enjoyed event was started by retired Prep choir director Mr. Beyer. It began 10-15 years ago as a small event in the school cafeteria, then as it gained popularity, eventually made its way into the theater.
Named after coffee houses, coffee shops, or cafés, "Typically, these [performances] are the kind of things they do there. Outside of school, we didn't start it. There, people drink coffee and snap their fingers to the open-mic concept that's most common in east coast coffee houses," says director Coach Scott. "So, we actually do have cookies and coffee for people."
At the triannual Coffee House, an array of talents is shown. Students and staff sing, rap, do traditional dance, spoken words, play instruments, you name it. In recent years, Coach Scott and student coordinators have added that anyone who participates gets their name raffled into a $50 or $100 Amazon gift card. Thus, it is not a contest, but a talent show.
One student who has performed is sophomore Ian Orejana '22; one of last year's Amazon gift card winners. He sang "Be My Mistake" by The 1975 with a guitar.
"I was really was just waiting for my name to be called while being nervous," says Orejana '22. However, he says "The audience was very respectful. Many of my friends were there to watch and support me which was very relieving for me."
As for faculty/staff, many have shared their hidden talents at various Coffee Houses. In past years, a number of faculty/staff have displayed their musical geniuses, including Prep's network systems administrator Mr. Nguyen playing his guitar and science teacher Ms. Tordillos playing her cello. Math teacher Mr. Ellinger is one faculty/staff member repeatedly seen on the stage. A dramatic reading, acapella Irish singing, and playing songs on the guitar are some of the talents he has shown in the six times he's performed. Mr. Ellinger has also done a duet with now graduated Eli Pasco '17, with him on guitar and Eli on his Irish tin whistle.
"I like performing, even though I'm much less confident about going solo in public. Drama was my thing in high school and college, and this stretches me," says Ellinger. He says that the crowd is always, in all caps, super supportive. Coffeehouse? He says, "LOVE IT. I wish I could do more. I always like working with students in something that's not about math or chess at all. WE NEED A BAND."
The first Coffee House this school year was held on Friday, December 13, 2019. It was student-coordinated by senior Rosy Chavez '20 who made reminder announcements and recruited students and staff to perform at Coffee House. At the event, she was the emcee.
"One of my favorite performances was last year when our DIVCO (Diversity Council) executives danced and rapped to jingle bells," says Chavez '20. "They wore ugly Christmas sweaters and rapped their hearts out."
Coach Scott admits that over the last few years, Coffee House has dwindled due to students being very busy. The first few Coffee Houses that he went to at Prep have had around 20 acts, but in recent years, it's been averaging 10-12. However, he claims that although it depends on year to year, the Christmas one is always well received.
"Sadly, I feel like coffeehouse has decreased in popularity," agrees Chavez '20. "I think it has to do with people feeling embarrassed to go up on stage and doing something in front of their peers and getting laughed at."
Though, Chavez '20 assures that it's a talent show minus the contest feeling of it all. "At the end of the day, it's all about having fun, not winning."
This most recent Coffee House, there were eight acts with less than 40 audience members in the theater space. These performance numbers include faculty/staff members Father Ryan Rallanka and choir director Mr. Weeks playing their favorite holiday songs on the piano, as well as Collegio teacher Mr. Kiehn performing two songs on the flute. Seven students displayed their talents on the stage; playing the piano, singing, and playing the guitar.
Seniors Aisha Mounir '20 and Clare Todd '20 played and sang "Oh, Ms. Believer" by Twenty One Pilots on the piano. On the audience, Mounir '20 says, "There were few of them, but they had energy."
"The acoustics are great," says Todd '20. "Everyone was very supportive and it was very fun. Everyone was having a good time."
The next Coffee Houses are on March 6th, 2020 from 3-5 pm, with one more to be scheduled during Arts Week in May 2020. Close to the event date, signup sheets will be posted in the OSL and on bulletin boards near the theater.
Coach Scott encourages all students and staff with passions and talents to give Coffee House a try. "It's a very positive thing. No one will ever be booed, everyone will be cheered on, and for a lot of kids that do perform or think about performing, it's a place to get the jitters out because it's such a positive place," he says. "Even if you make a mistake, no one even pays attention to it."
"If you feel confident enough to do some sort of act in front of your friends or random people, I think it will be fun for you. Coffee House is not meant to be a competition, so there shouldn't be anything to worry about," says Orejana '22.
"Go for it!" says Chavez '20. "Coffee House is about expressing yourself and showing off your talents to your peers. Even if you aren't the best at something, that's okay because everyone cheers for you while you are on stage. Just have fun! What's the worst that can happen?"
About the Contributor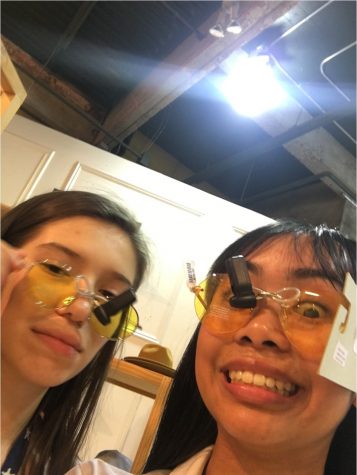 Tia Flores, Staff Writer
Spot a Filipino girl with bangs around campus? That would be junior Tia Flores, who is absolutely thrilled to be on the Panther staff for her third year....