Art Can Be Found Anywhere, Even on the Soles of Someone's Shoes
Shoe art is one of the many new stylish trends at Seattle Prep. Shoes seem to be the perfect blank canvas to pour individual creativity and artistic abilities. Some talented students even pair up to create their own dynamic duo shoes. Shoe art is a fun way to personalize shoes and have the coolest shoes in school.
Rachel Rasmussen '20 is one of the creative students who has drawn on her shoes. She said, "I started shoe art because I was inspired by photos I saw on vsco. I was bored one day, and I had some white shoes I did not care about, so I decided to color on them!"
Rasmussen gets inspiration from the app vsco for the designs to draw. To get some additional advice on some designs, she said, "When I was confused about what to draw, I have asked my friends and family for advice on what to draw. After drawing on my shoes and wearing them to school, some of my friends have also started to color on their shoes. My favorite part about decorating my shoes is that they can be completely unique."
Sophomores Mia Meighan and Molly Bevan worked together to create shoe art. The shoes have a variety of different designs such as lightning bolts, cherries, polka dots, neon pink and orange fill-ins, and blue glitter. Each panel of the shoes has a different vibe and mood. Not to mention, with all of the different colors and designs, the shoes can go with pretty much every outfit possible! To end off the shoes, making them even more stylish and personalized, on the soles Meighan and Bevan wrote, "Made by" on one shoe, and "Mia & Molly" on the other.  
Bevan has been loving shoe art ever since her "Mia & Molly" shoes and she said, "I started shoe art because I thought that it would be a fun way to personalize a pair of shoes."
Not only choosing the designs to draw on the shoes but executing the designs is important to creating the most unique shoes possible. Bevan said, "The first thing I did was come up with all the designs that I knew and then if I needed more I looked online. Mia and I used sharpies and paint to draw on the shoes."
Shoe art can't be done on any pair of shoes but are best on a pair that are not already patterned and/or plain white. Bevan says, "I think that Nike air force ones are good because of all the different panels there are."
Similarly, Rasmussen said, "The best shoes to use for this are white shoes so that you have the most space to draw on it."
Meighan, the other artist for the "Mia & Molly" shoes said, "I loved designing the shoes because I felt that I had full creative control and could express myself through that art. There was no specific process that we followed when we were designing the shoes, we kind of just drew and painted things as inspiration struck!"
Anyone can create shoe art and show off individuality and style. Look around for some sick kicks next time walking from class to class, students may just find some inspiration to make some themselves.
About the Contributor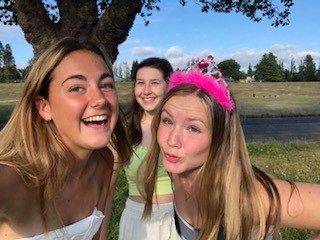 Caroline Casey, Staff Writer
Caroline Casey is a senior at Seattle Prep and she is so excited for her third and final year on the Panther staff! She loves playing soccer, swimming,...