College Applications: Unity in Pain
School spirit: the mentality that runs through the halls of every school throughout the country, and possibly throughout the world. The force that propels students to attend hour long games in the freezing rain and chant like madmen. The force that unifies student bodies yet pits schools against each other. In such a divided world, could a Prep student ever relate to a Blanchet student? How will these two bodies of students, armed with bias, relate?
The answer lies in a shared torture: college applications. Through this, Seniors across the Seattle area can bridge the gap forged by years of chess tournaments, football games, or swim meets by relating with empathy. If ever forced into interacting with, for example, a Holy Names senior, simply bring up the SAT and laughter will quickly ensue as they drag the College Board through the mud with witty "disses" and "burns." All seniors suffer through the college application process and can find commonality in pain.
The Panther has reached across the front lines and interviewed seniors from schools across the Seattle area. Armed with different perspectives, The Panther hopes this information will help Juniors as they prepare to apply and offer a reflective, cathartic experience for Seniors.
Representing O'Dea high school, Dylan Meyer '19 states that the SAT was the most grueling aspect of the application process. Dylan recommends to "start studying for the SAT as soon as possible. It is really tough, but you want to give yourself plenty of time to prepare." In studying for the SAT, Dylan used Khan Academy and highly recommends this website.
Catherine Evans, a Senior at Holy Names Academy believes the most difficult part of the process was reviewing her application before submitting it on the cumbersome Common Application website. She states, "It was stressful making sure everything was correct. After you spend so much time on the application, you still have to read it over when you just want to send it in." Like Dylan, Catherine agrees that is essential to begin the process as soon as possible. Emphasizing her advice with several exclamation marks, Catherine stated, "Get started early!!!!!!"
Seniors, look back on college applications with a sense of pride and accomplishment. Juniors, and all underclassmen, as college applications approach, do not procrastinate out of worry or fear. Face the challenge head on and gain satisfaction knowing you will now have a fail-proof small talk topic.
About the Writer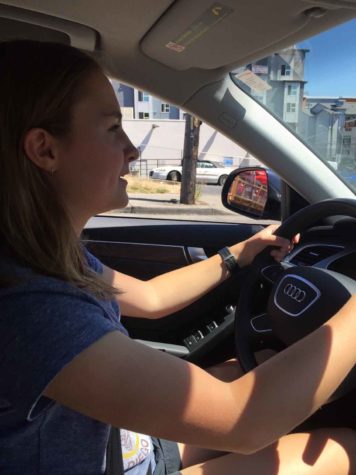 Mimi Parent, Staff Writer
Mimi Parent is a senior at Seattle Prep and has been on the Seattle Prep Panther staff for three years. In her free time, Mimi enjoys listening to music, driving...