U.S. Responds to Migrant Caravan at Border with Dangerous Tear Gas
Current photos of our border with Mexico show nothing less of a war zone. Depicted are women and children fleeing from violent tear gas— the same harmful chemical weapon used in WWI.
On November 18, the migrant caravan arrived at the US-Mexican border after traveling on foot from San Pedro Sula, Honduras. The 7,500 refugees, many from Honduras, Guatemala, and El Salvador, are walking together in hopes of increasing their chances of safer travels and entry into the United States to seek asylum.
There has been much anticipation of the arrival of the caravan at the US border as reporters have been following the group for weeks as they travel north through Mexico. However, over the past few weeks President Trump has failed to present a solution that would uphold the safety of these refugees. Instead, he has vowed to have no members of the caravan cross the border into the US by increasing border control and protection.
As people arrived at the border hoping to be let across to find jobs that would open opportunities for them and their families, President Trump approved the use of tear gas on the refugees to try to make them turn around and go home. The results were horrific. Many witnesses say refugees were fainting and had serious injuries from the dangerous chemical weapon. Tear gas was one of the chemical weapons used during WWI, but now under the Geneva Protocol is illegal to use as a weapon in warfare. However, it is legal to use domestically in the US in order to control riots. According to the Trump administration, the tear gas used against the refugees was "a minor form of tear gas."
Minor or not, any form of chemical gas should not be used to harm people trying to seek refuge from a life of violence and poverty. The Trump administration is using tear gas as a short-term solution to the problem that is affecting thousands of suffering refugees. We as a nation must find a solution that allows these refugees to find safety and reliable jobs. Our current long-term solution, which includes pilling up court cases for immigrant judges to decide upon, is not enough.
Currently, refugees are staying in camps near the border, in the cities of Tijuana and Mexicali, Mexico. While waiting in their temporary homes with poor conditions and bad water quality, hoping to get approved to move across the border and start a new life full of opportunity in America, President Trump is sitting pretty in the oval office making no further progress on the situation. If anything, President Trump is stalling the process by making threats through tweets on November 28th that stated: "If for any reason it becomes necessary, we will CLOSE our Southern Border. There is no way that the United States will, after decades of abuse, put up with this costly and dangerous situation anymore!"
The fact of the matter is that innocent people are running from a dreadful life full of crime and violence, in hopes of finding a new life that will present them with new opportunities they have never had before. We can make this new life a reality for these refugees. Our government must progressively make legislation that allows for the members of the migrant caravan to legally enter the country and make a foundation for themselves, and their future generations to come.
About the Writer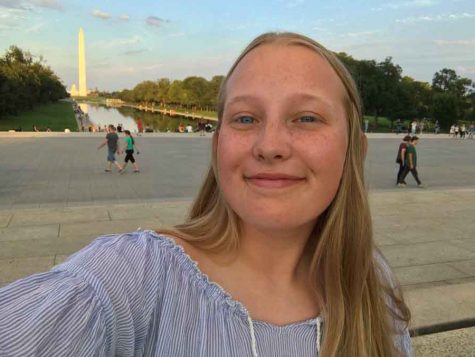 Chloe Saharic, Online Editor
Chloe Saharic has been on the Seattle Prep Panther staff for two years and is excited to start her Senior year as an Online Editor. She enjoys running...