Giving Tree Program Raises Money for Local Organizations
Hang on for a minute...we're trying to find some more stories you might like.
          Seattle Prep officially kicked off this year's season of giving on November 29th with the annual Giving Tree Assembly. This year's Giving Tree Charity Drive theme is "A SoCal Christmas,". This means Prep students will be seeing gift tags hanging on our Christmas tree in the shape of sharks and surfboards.
           As part of the Giving Tree Charity Drive this year, Prep students will be participating in three drives for different causes. The first location Prep will be donating to is Wintonia Community Housing Association, a 92-single-room-occupancy building for the homeless. For Wintonia, students will be participating in a supply drive for the residents of the building. Freshman and seniors are collecting socks, sophmores are collecting rain jackets, and juniors are collecting full-sized toiletries. Secondly, College Regina Assumpta in Haiti was the first all-girls high school in the region but has recently faced damage due to unrest from the region's departmental office over girls' education. For College Regina Assumpta, students will be collecting money in jars coordinating with their Collegios for the rebuilding of the school. Finally, Prep will be working with St. Martin's Shelter, which Paige De'Ora '19, who worked directly with coordinators at the shelter, explains as a "safe place with meals, clothing, and medical care for homeless men age 55 and older." Students will take tags off the Giving Tree, which on the back of them have listed the name of a resident at St. Martin's and some off his wishes for this holiday season. The student can then buy one or more of the items on the tags and drop the gift off at Ms. Field's office to deliver to a resident at St. Martin's.
            Isabel Johnson '19, from Ms. Bernal's Faith in Action class who helped put on this year's Giving Tree Assembly, shares that she thought the assembly went "really well" because of the "great speakers and fun theme." This year Prep had speakers from St. Martin's Shelter, Mirabelle Scholten '19 representing College Regina Assumpta, and a past resident from Wintonia share their experiences with their different sites. Guest speakers were introduced by Gracie Wellman '19 and Matt Adam '19, who embraced the "SoCal Christmas" theme with their southern California inspired clothes and attitude. This year Johnson hopes to see "lots of people participate in donations so Seattle's homeless population receives the basic necessities they deserve," and she herself is planning on donating lots of socks and money!
            As a member of the Faith in Action class, Johnson got a whole new perspective on what hard work goes into Prep's Giving Tree every year. Johnson shares that this year she got to "see all the work seniors put into the assembly in years before and got to participate first hand by making posters."
            Paige De'Ora '19, also from Ms. Bernal's Faith in Action class, spent time communicating with Jenette Wyatt and Leah Willover, two employees at St. Martin's, about the shelter. De'Ora shares that "it was interesting to talk to both (Jenette Wyatt and Leah Willover) about St Martins because it opened my eyes to how much the gifts really mean to the residents." In explaining why giving to St. Martin's is so important, De'Ora elaborates, "the gifts show that we care about them and that we don't treat them like they are invisible."
            Ms. Ford, who organizes the Giving Tree Charity Drive, is very optimistic about this year's drives. She wants the student body to know that our partners "count on us each year to support them through these donations and each year students step up and really show the spirit of Advent and Christmas through the success of the drive." Ms. Ford hopes that this year "each resident from St. Martin's has his Christmas wish fulfilled, that we're able to reach our $2,000 goal of fundraising for College Regina Assumpta and that our students know how much each sock, bottle of shampoo and rain poncho mean to someone experiencing homelessness and isolation here in our community!"
            This year, students are encouraged to go out into the community and help as much as possible by participating in any of the three drives or all of them! Buy socks, donate money, or pick out a Christmas gift. Everything we can do as the Prep Community helps, so let's show the world how much Prep cares this Christmas season.

About the Writer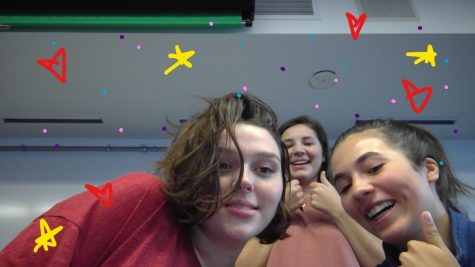 Abby Malzewski, Staff Writer
Abby Malzewski (far right) is a senior at Seattle Prep, and this is her second year on The Panther staff. Abby enjoys being pushed to her limit on runs...