Ethan Cantrell: King of the Mound
Ethan Cantrell doesn't hold the title of ace on the Seattle Prep baseball team, but his numbers sure do suggest that he can command the game and the zone.  Over 23.1 innings Cantrell walked just one batter, gave up three earned runs, and struck out  fifteen.
There are a lot of different ways a player can be successful on the mound, but Ethan kept
it simple."In general I think just trying to get guys out was a big key," Cantrell said, "I think
just throwing strikes and not worrying too much about what pitch I was throwing, was what helped
me."
Cantrell didn't even take the mound last year, but he not only found a way to get by, he performed at an extremely high level. With an ERA (earned run average) of .900 and a WHIP (walks plus hits per inning) of
.686, Cantrell had best the best numbers by any player on the team that pitched over 10 innings.
All of Cantrell's pitches seemed to work when he need them to, but his go- to was "definitely
the two seam," he said. "(It) was a pitch that worked in on the right handers, and then later
in the year it was the change up."
Cantrell was extremely efficient when put into save opportunities as he did not have a blown save
all year.. The last in- ning is a very different atmosphere than the first — it comes with a lot  of stress.
"It's stressful because you want to make sure you are there for the team," Cantrell explained. "You know everyone before you did a good job to get you in that situation, so I always really wanted to finish the game up and
secure the win."
The senior also won both of the games he started and always seemed to get much needed outs
for the team. Coach Engel praised Cantrell's performances saying they "were timely and
clutch."
Engel added that, "the best thing about him was his tempo. He always put pressure on the
other team to get ready to go and hit."
Cantrell likes to keep a low profile as a cross country runner, marathon runner, and a member of
the baseball team. He does whatever he needs to contribute to the team. He is off to Georgetown to
further his career academically. He loves DC for the location and the wide variety of opportunities Georgetown
brings to him.
"A big advantage in being there is just the city," he said. "DC is amazing. There will be so
many amazing opportunities during the school year, beyond just what (other students) would be
able to do in the summer."
"I think (because of) what I want to study, the opportunity to get an international perspective
from people around the world and the country will be a very new and interesting dynamic" added
Cantrell.
Cantrell was an extremely impor- tant player who helped the baseball team in the dugout, on
the field, and in the classroom. As he furthers his legacy, Prep Baseball will support him in anyway they can.
About the Writer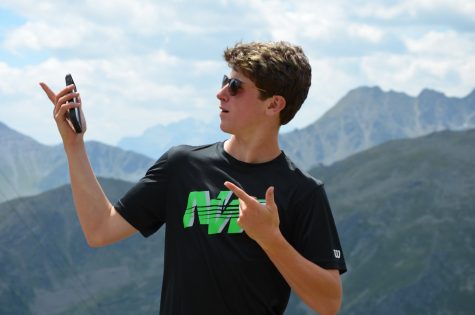 Kellen Carr, Staff Writer
Kellen Carr is a junior at Seattle Prep, and is in his second year on the Panther Staff this year! He plays baseball, basketball, and a little bit of soccer....