Prep Staff: A Compilation of Hidden Talents
As far as many students can see, the staff here at Seattle Prep come to serve their purpose. They feed our hungry minds (and stomachs) and help us to be better individuals. However, looking behind the mask, many of them have their own concealed geniuses.
IMPRESSIONISTS:
Mr. Bond: Impressionist & Video Game Wizard
Mr. Bond, a teacher in Prep's science department, can do impressions. "I can do a range of celebrities, yes," he admitted. It all started when he tried it once, and people praised him for it. He also has a knack for old school video games, since he grew up in the 80's. "Give me anything with a joystick and buttons and I'm set!" he claims.
Mr. Mack: King of Rock and Roll
Many may have seen Mr. Mack roller-skating around the building, but he also does an impressive Elvis impersonation. He said that back in his college days, someone challenged him in a coffee house to do Elvis… it took off ever since! According to Mr. Mack, he had no sideburns like Elvis did, so he DIYed them! He took Elmer's glue and tea bags and smashed the contents of the bag on the glue– instant sideburns!
Mr. Butler: Michael McDonald or Collegio Teacher?
"You probably don't even know who he is," says Mr. Butler, Collegio teacher. It was true, I didn't. (For those who are in the same boat as me, he was a popular artist in the 80s.) This unique talent of his was discovered when he and a friend were at a store in college and his song was playing. They goofed around trying to mimic his voice, and he could do it! "It's a talent that can be developed, so pretty much anyone can do it.." he said.
PHYSICAL TALENTS:
Ms. Carter: Dancing Queen
Ms. Carter, Prep's Head Chef, is a natural at dancing. It all started during a regular day in Olympic Week, and an opportunity for a dance video game was up for grabs. No one wanted to take over– until Ms. Carter stepped up! At that very moment, she discovered her knack for dancing! "Oh, she's very good!" added Mrs. Fields.
Madame Davis: Perfect Posture Practice Pro
When asked about hidden talents, Madame Davis instantly grabbed a textbook off of her desk. She walked around the perimeter of the classroom with the book on her head. "It's a good way to practice posture," she said. "Language teachers can be a little weird," she exclaimed, "Don't you think?"
HOBBIES:
Mr. Eagan: A multi-talented soul
Besides Mr. Eagan's math skills and volleyball coaching tactics, he can do many other interesting things. He can build playing card structures, dominate on water skis, juggle, speak a bit of Swahili, and is a pro at Wii tennis.
Mr. McCarthy: Snowboard Tricks Expert
Just a Collegio teacher and Mock Trial coach? Think again. McCarthy has mastered two tricks on a snowboard; the toe turn and the heel turn. How did he come to realize his talent? Well, Mr. McCarthy, being his ambitious self, decided that he would learn one new skill per decade. Last decade, he accomplished this phenomenon. His favorite place to land those ollies is in Big White, Canada.
Ms. Borgen: Jigsaw Master
Ever since she was a child, Prep Librarian Ms. Borgen, enjoyed finishing jigsaw puzzles. This last summer, she finished a picture of a stained glass window comprised of 1,500 pieces. "They all looked the same, so it was kind of a challenge," she admitted. She also says, "If it was something I could get paid for I would totally do it for a living."
Ms. Ann Alokolaro: Star Hula Hooper
Admissions Director Ms. Ann Alokalaro, is a pro at hula hooping. Her talent ignited when she was in 7th grader at St. Anne's; there was a hula hoop contest for who could do it the longest. She won, and has been a reigning champ ever since.
About the Writer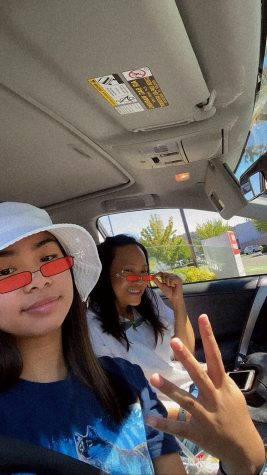 Tia Flores, Online Editor
At a staggering 5' 1 ¾", senior Tia Flores is absolutely thrilled to return for her fourth year on The Panther as co-Online Editor. In her spare time,...