Frosh Get First Taste of High School Sports
Hang on for a minute...we're trying to find some more stories you might like.
Yes, it is that time of year. Athletes who have been underpredicted for years are now being covered: freshmen. If someone did not play a sport as a freshman it was for one of three reasons: they were not allowed to, were not a "sportsperson," or they were doing another activity. All are valid reasons, but it is time for the Prep community to get updated on freshman sports. Starting with football.
The boys freshman football team looks "pretty good and has a lot of athletic kids," according to one freshman player, Jalen Hernandez. "It is much more competitive and the players have to work extra hard for playing time. It's not just given to us."
The freshman boys kicked off their season with a 14-2 win over Mercer Island, thanks to a Leon Neal receiving touchdown and the defense who did their job picking up a score with a pick-six by Kendin Alexander. They look to continue their winning ways throughout the season.
The Freshman girls volleyball team started out their season with five straight wins. The streak ended when they dropped a match to rival Holy Names Academy. When asked about the team, freshman Molly Moffit said "Everyone on the team is really friendly and hardworking. We have developed good chemistry with each other through the fun practices." Team chemistry is important in athletics, because when one person fails another person can help the team succeed, and that is exactly what is helping the girls team with their season. "Everyone steps up when they need to, it's hard to name just a few players who stand out."
Making a varsity roster is challenging, but the freshman were not afraid when it came to volleyball. The varsity volleyball team added two freshmen over the offseason MacKenna and Mia. When asking sophomore Claire Filarski about the freshman she said, "They are really fun to be around! They always have a good attitude and are good at their positions."
Being a freshman on a varsity roster can be rough, and most upperclassmen enjoy having fun with the freshman throughout the season because they are a freshman. When asking Sophomore Claire Filarski if the frosh had to do anything special because they were freshman on the varsity team she responded with a smile and commented, "They may have had to wear a bib signed by the whole team for the first practice." All the teasing is done out of good fun, because there is some respect that comes with being a varsity athlete as a freshman too.

About the Writer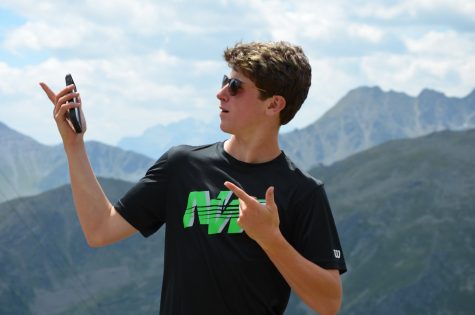 Kellen Carr, Staff Writer
Kellen Carr is a junior at Seattle Prep, and is in his second year on the Panther Staff this year! He plays baseball, basketball, and a little bit of soccer....