Saturday, November 4th marked the date of Seattle Prep Boys Cross Country's (SPXC) second consecutive state title. The team traveled to Pasco, WA to compete in the very race they had prepared for all season. All five scorers went on to place in the top 30 as Prep found themselves comfortably in first place.
"It felt amazing," said senior Liam Riley when he found out another first place trophy was coming home to Prep.
The victory was by no means a surprise. The team dominated their races all season, gliding through the Metro league and the playoffs. According to Riley, "Going into the state championship race, [they] knew [they] were pretty locked in for first."
The preparation began all the way back in the summer, Riley saying, "We have been training…since June, building up mileage, putting in work six days a week for twenty weeks." Despite their confidence for the state meet, their victory was still very well-earned. "It wasn't a given, Riley said. "We wanted to be a champion team [so] we worked hard for it."
The team's three seniors led the way: Jack Henzke placed third, Riley grabbed thirteenth, and Nicolas Davila finished twenty-second. The last two scorers – Hudson Atrosh '25 and Henry Herb '27 – finished just seconds behind to secure Prep's title. "We knew that we won when our fifth man…crossed the finish line…well ahead of any other team's fourth or fifth man," said Riley.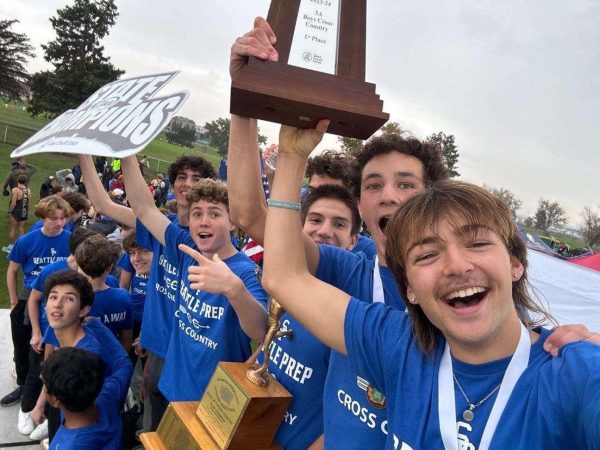 After a long, successful season, the boys completed their quest for a repeat. After last year's title there were plenty of expectations surrounding this year's team, who Riley believes to be "even better" than last year's. They knew their potential from the start, worked for it, and made it happen.
Just a week after the state title meet the team headed out to Boise, ID to compete in the Nike Cross Regionals (NXR) on November 11th. With a spot at Nationals on the line, the Panthers looked to place in the top two to extend their season. While they missed the cutoff, the team still took home the fifth-place trophy, knocking off many of the best teams in the northwest. "We made a pretty good attempt…I'm proud of how far we got," said Riley. Meanwhile, Henzke's third place finish managed to earn him an individual spot in Nike Cross Nationals in December.
Now, Riley says, the focus remains on keeping SPXC's future bright: "I hope we can pass the torch and keep it going. It's going to take a lot of work from the freshmen, sophomores, and juniors…but I have so much faith that they can get it done."
Losing the top three scorers will be no easy task for next year's squad, but, according to Riley, these guys have what it takes: "This team has the most grit and determination out of any sport team I've ever been on, and I know that they can come back and take another state title next year."
Considering the team's goal, this season was nothing but a major success. For the first time ever, a Seattle Prep Boys cross country team can call themselves back-to-back champions. While it's the results that stand out, none of this could not have happened without the countless hours of training these boys put in and the tight-knit community they worked to create. SPXC isn't just about winning. "It's about community and making lifelong friends and having fun," Riley said. "SPXC is more than a team, we are a family."