The clock hits 7:00 PM on Wednesday evening at Bishop Blanchet High School. The first game of the season begins. The roars, the hits, the chants, the game. Over 100 students joined the Away student section to support the opening game of the season. 2 hours later, Prep wins. What's new?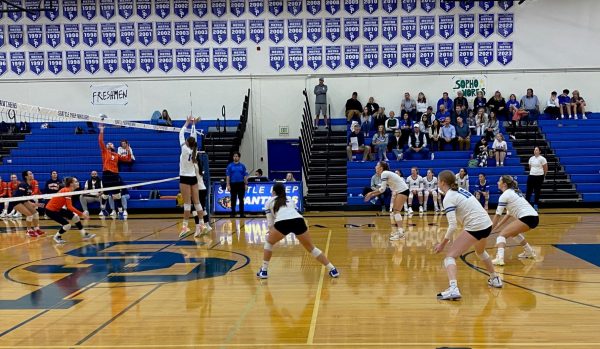 There are just over twenty sports and teams offered at Seattle Prep, one of those being the Women's Varsity Volleyball Team. What makes this specific team so unique? Despite the team being undefeated in conference play thus far, their success is due to far more than skill. The varsity team consists of players from all grades, freshmen through seniors.
The team is led by program head, Zoe Haywood, who is also the Assistant Principal for Athletics and Student Life. Haywood attended Chief Sealth High School, where she enjoyed playing Volleyball and Basketball. Additionally, while at Chief Sealth, she met Mr. Reed, the previous Sealth athletic director, and current Prep athletic director. After graduating, Haywood played Division 1 basketball for Western Washington University, and further took her passion for athletics into high school coaching.
Leading the team are the two senior captains, Tea Bosanac and Ava Tinder. According to Bosanac, the team has a special bond this year, which has paved the way for their immense success on the court. "The dynamic is a different environment from previous years, we are a lot more gelled together this year and everyone is nice and friendly to each other."
Game days are long days, that often consist of long drives for away games where the team travels on the Prep bus. Bosanac shared, "our team has fun anywhere we go."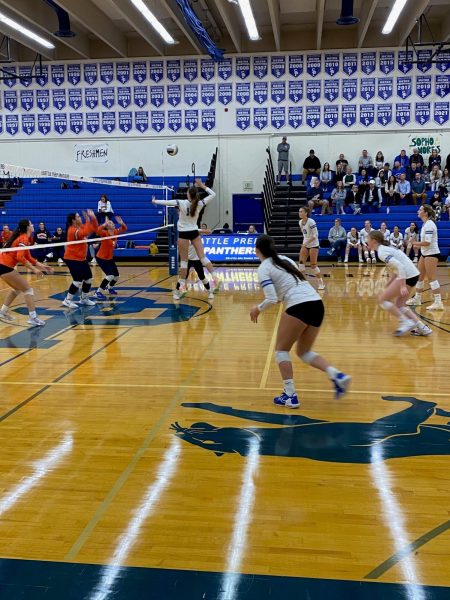 A game day is no regular day for the Panthers. Mika Wellington '25 and Delaney Dorsht '25 took us through one: "The routine begins right after school, the team heads upstairs in Adelphia to the Great Room where we spend an hour or two doing our homework, studying for tests, and doing whatever we need to get school off our mind before the game. During homework time, a parent brings a team meal, for some pre-game energy. Some favorites are teriyaki, Chipotle, Shake Shack, and more. If the game is at home, some of the players are required to volunteer at the Freshmen and JV games as score keepers and line judges. After both the earlier games are finished, we warm up using a secret hype up routine which we cannot reveal. Finally, the game starts."
Bosanac has verbally committed to playing for Colgate University starting next fall, where she will join the Patriot League Conference. Although Bosanac did not come to Prep until her sophomore year, she has been on the varsity team for all three years. Bosanac shared "Prep volleyball shows me that I want to play in college and since I have had a good experience, I want to represent my school and be a student athlete for four more years." Haywood has also been a mentor for Bosanac, and all players who aspire to pursue a collegiate volleyball career.
Haywood wants players to go into the recruiting process "eyes wide open," explaining how her biggest goal for them is to "just be happy." She also knows that "if they don't want at the very core of them, they shouldn't do it."
Reflecting on her three years on the Seattle Prep's Varsity Volleyball Team, Bosanac commented, "all the stuff outside of the game is what you will remember down the line. I mainly remember how people made me feel and how I felt and that's what I want them to take away. Yeah, we played a game, but we also grew as people." The team has one month left of competition, so
Haywood exclaims "come watch us have some fun and you won't be disappointed!"