Spicing it Up With Fall Fashion
Changing colors, cooler conditions, and pumpkin spice lattes! Fall is officially in the air and so is the pressing question of what fall fashion trends Prep students will be wearing this season.  
         Through the hallways at Prep, students have traded in their summer slides for a comfy pair of Birkenstock Boston clogs or mini UGGs. To combat the chilly air, students are also digging deep into their closets for chunky and funky knitwear. From patterns to neutrals, oversized to cropped, Prep students are staying warm and stylish this season! 
      When asked which hot trends they think will be popping this fall, seniors Colin Thornock and Finley Dermody replied, "for sure mini UGGs, oversized knit sweaters, oversized leather jackets, maxi skirts and dresses, vests of any kind, tall boots and chunky docs, mini jean and cargo skirts, and matching sets are always in".  
As for her go to outfit for a fall day, Dermody says, "a sweater with jeans or a mini skirt, or a matching set with slippers all day every day." Thornock's personal favorite this season is "a cute sweater with jeans and Converse". 
      Sofia Gutierrez, ASC member working in Community Ministry, has a passion for fashion, and the Prep hallways are her runway. Gutierrez's hot take on fall trends include, "tall boots, specifically cowboy, chunky knits, classic cut denim, tailored fits, elevated neutrals with sleek or dramatic details, gold jewelry, blazers, and saturated jewel tones".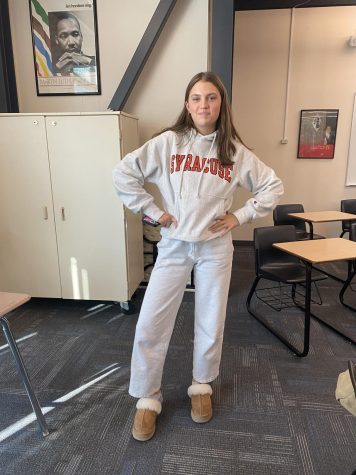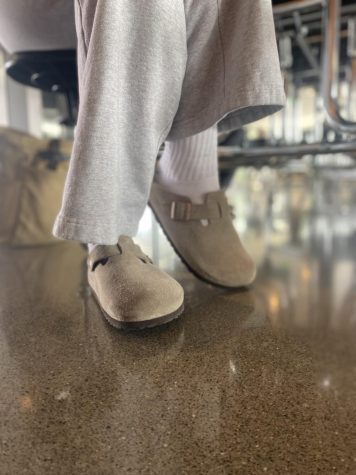 When asked why she enjoys dressing up, Gutierrez says, "I'm reminded of the scene in The Devil Wears Prada where Stanley Tucci is talking about fashion being more than clothes. It's art and a form of self-expression". As for the inspiration of her style, Gutierrez says that though she loves casual, she adores drama and would wear a gown or full leather fits everyday if she could. She is especially inspired by Zoey Deutch, Dakota Johnson, Kendall Jenner, Zendaya, and recently, Anne Hathaway.  
   Gutierrez offers her final fashion advice for this season, "I will admit, I prefer to just kind of pick items that I find intriguing and try to style them myself because I get nervous and just feel less interesting comparing my style to a celebrity. I'd rather my looks be my own signature."