Meet a Freshman: Pearl Steele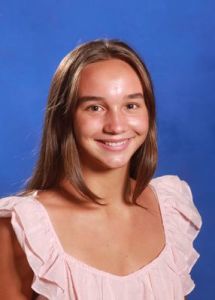 Freshman Pearl Steele was initially attracted to Prep because of its academics, athletics, and how well Prep balances them. Before the school year started, Pearl was nervous about meeting new people, and not having classes with her friends. However, after the first day, Pearl's fears vanished and she started to look forward to the rest of the year.
She is a part of Bellarmine Collegio and is excited to represent them during Olympic Week. Pearl is currently on the JV girls soccer team and is apart of business club! As the school year continues, Pearl plans to add more extra curriculars to her schedule. She is looking forward to trying out for girl's lacrosse team this spring and applying to Journalism!
Outside of sports, Pearl enjoys cooking, watching tv, and hanging out with her friends in her free time. Her all-time favorite food is Din Tai Fung and her favorite show is Gossip Girl. As she enters her first month at Prep, Pearl's favorite thing about it is the campus and its views.