Q&A With New Acting President Mr. George Hofbauer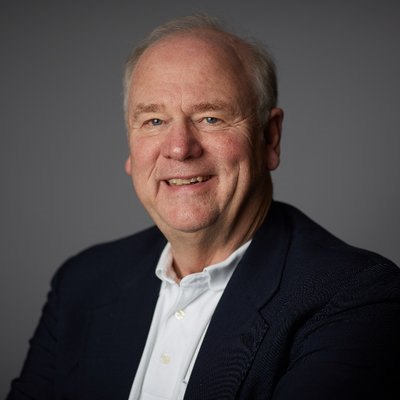 On January 28, 2022, George Hofbauer was named Acting President of Seattle Prep. Hofbauer's appointment came after Kent Hickey's resignation at the end of December, 2021. Kelsey Hamilton '24 sat down with Hofbauer to find out more about the new head of Seattle Prep.
Kelsey Hamilton: Can you tell us a little about your background?
George Hofbauer: I grew up on the Southside of Chicago and I went to a Catholic grade school and high school. My high school, Brother Rice, was an all-boys high school consisting of about 2,000 young men. I was so impressed with the teachers at Brother Rice, who were Irish Cristian Brothers, and I became close friends with a lot of them, so I entered religious life and became one as well. I went to Louis University, and I was sent from there to O'Dea (High School) where I taught for two years. An interesting thing about me is that I've never applied for a job in my life. I was welcomed into Brothers and when I left, someone called me up and asked if I could sell life insurance for them. I was selling life insurance for about a year when I got a call from the pastor of St. Joe's (St. Joseph School, Seattle). They had lost a teacher halfway through the year, so they asked me to come in. I was only going to come in for a year, but I stayed there for 40 years. The pastor asked me if I wanted to be the principal. I didn't want to do that stuff, but I eventually said okay. It was about 38 years later when I retired. I always taught while I was a principal there, my favorite part of the job was teaching and being with the students. While I was at St. Joe's, I was elected to the National Catholic Education Association to represent five states on their board in Washington DC. I started the Rainbow Schools, which was to try and get financial support for a group of inner-city schools, and it's still going to this day. I was happily retired when I was called in to help at Holy Rosary. I was going to stay there for three months, but I stayed there for three years and three months. I retired again when I was called halfway through the year to help at St. Paul's as the head of school and I stayed there for two years. Then I was retired again when I was called to come to Seattle Prep. This was a true joy because my children went here. I've always been connected to Jesuit education, and I always thought it was a great school.
KH: What drew you to Prep? How did you decide to take on this role?
GH: A woman who first called me up was Mary Lee (Seattle Prep Board of Trustees), who had been a student of mine at St. Joe's and is now the vice-chair of the board. Because Mary Lee called me, and again, in my life, there's always been this belief that I have received callings because I've never applied for anything, somehow the universe under the direction of the Lord has done something. I couldn't turn down Mary Lee and when I met members of the board, I understood why I was probably a good fit for the time.
KH: What does the president at Prep do and how is it different from a principal?
GH: I think that there's more prestige in the title of head of school or president than there is of principal. But really the principals in all of the grade schools are pretty much the presidents. The big thing is someone has to be in charge. They have to be open to the community, and the community has to put a certain amount of trust into the person because they're making major commitments. You hold different types of responsibilities and there can be times when it's a burden to carry.
KH: Adding on to that, how has the community here at Prep been for you?
GH: I'm phenomenally impressed with the young men and women here. It really seems like they care about each other. When I walk around the buildings, I never see any disharmony or mockery, I see a lot of happy eyes because I only see part of their face. I get the impression that people really enjoy each other, which is a major statement. I also do classroom walk byes and you can tell if nothing is happening inside, but I'm always seeing teachers moving about or talking, lessons taking place, and students engaging.
KH: Looking forward, what are some things you envision in the future for Prep?
GH: I think it's going to be harder and harder to accept the kids who want to come here. And again, what's coming is the prayer garden, the new grass turf down at Montlake, and that's enough for a while. The biggest thing that's coming, and I've seen this now and for years, is that we have to help the young men and women who come here to see themselves as truth-seekers because of the shape of the city and the world and country. And the divisions of opinions between people, some of whom don't have the knowledge, and some of whom cannot try and see the other person's point of view. First, you have to know what the truth is, and the second thing is to find the truth and then help other people see it, but never stop reengaging even if they get mad at you. It's almost like you're a different type of crusader, a crusader for the truth.
KH: How is the role of an acting president different than the role of a permanent president?
GH: You're in a bit of a no-mans-land because you're plopped in when you come from off-campus and you don't know what the committees are, who's on them, you don't have command of the budget, you don't even know for sure what your calendar is for the rest of the year. You have to spend so much time on that, that it can be very overwhelming. When you're here, it's a hard job, but you're creating it. You've created the budgets and programs. As an acting president, you're trying to catch up to today.
KH: How long do you plan on staying here? Is it a one-year position, 6 months?
GH: That's completely up to the board. I'll for sure be here for the rest of this year. But if they find someone then that's fine to take them in, I'm here for as long as I'm needed.
KH: Do you know if they're looking for someone right now?
GH: There is a committee and I believe they've engaged with a firm, that's what a lot of people do these days, you hire a firm to do a nationwide search, and I'm pretty sure they're starting to do that.
KH: Is there anything else that you want to say?
GH: Just what I started out by saying which is that I'm overwhelmed at how wonderful the community is.