Legacy Students: Prep Seniors Continue Their Family Tradition
During the hectic college search process, students find themselves creating long lists of colleges that they are interested in attending. Due to the COVID-19 pandemic this year, many seniors have not been able to visit colleges. This and other stressors may have overwhelmed students in the decision-making process to find that perfect fit. As the year is coming to an end, seniors have finalized their college decisions. Some have decided to go abroad, while others chose to stay close to home. While everyone has their own reasons of attending a certain college, there is a special group of students who have decided to carry on the legacy of their family members.
Camille Hardie '21 will be attending Santa Clara University in California as a biology major in the pre-med track. Her parents, both Prep alumni, attended Santa Clara for college: "My mom majored in combined sciences and my dad majored in mechanical engineering."
When asked why she decided to attend Santa Clara, Hardie claimed that she really liked "that it's so similar to Prep and it has a lot of the same Jesuit values and has a welcoming community, it's also in California which is really nice."
For Hardie, her parents alumni status at Santa Clara had some effect on her college decision process: "it came down to deciding between three or four schools, and I kind of wanted to follow my parents' legacy and they also gave me a scholarship."
Ali Martynovych and Margaret Felton will both be staying close to home by attending the University of Washington. Martynovych's mother, uncle, and her great uncle all attended the university. Felton's mother and two aunts were also alumni, where her mother majored in English and one of her aunts majored in Economics. Felton will be attending the Foster School of Business and plans to major in accounting. Martynovych's is planning on majoring in architecture.
Martynovych claimed that her family had some effect on her college decision: "I think that it had a little bit to do with my decision, especially because my mom and dad have been husky fans forever and they always hoped I would end up there. I didn't want anyone else to sway my decision, so I tried to not let them influence me…I came to this decision pretty much on my own."
Margaret, on the other hand, felt like her decision had very little to do with her family, but she is however, "excited to come home on the weekends and get food and do laundry."
Ali had plans of attending college out of state, but ultimately decided to stay close to home in pursuit of her architecture major: "UW is an amazing school for architecture and I knew that I would be set up with so many connections in my career."
Margaret also had similar thoughts to Ali as when she learned more about other universities, she ruled UW out, but then "realized it is a very good school" and decided to commit last minute.
Ali's uncle was a part of the Greek system during his time at UW and she hopes to do the same: "I am most excited to rush and hopefully be in a sorority." Margaret feels similarly as she stated, "my aunt was in a sorority and I also want to be in a sorority."
When asked about what they are most ex cited about in college, Ali claimed that she looks forward to "the chance to meet tons of new people" along with the "opportunity to take courses" that actually interest her.
Margaret is ready to socialize and experience memorable moments: "I'm most excited to go on spontaneous trips with friends."
Hardie, Martynovych, and Felton, are a handful of many students that will be attending the same colleges as their parents. Legacy students can have similar experiences as other family members, which allows for them to continue on traditions.
About the Writer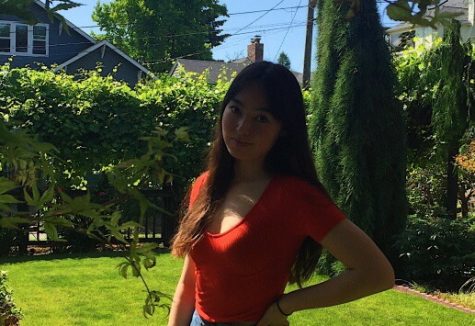 Kelly McGarry, Staff Writer
Kelly is a senior and this is her second year as a staff writer for the Prep Panther. She has a serious pigeon phobia. Her favorite movie is 'Eternal...