Mock Trial Memories: Seniors Reflect on Their Time in Mock Trial
The Seattle Prep mock trial team is legendary in Washington, and after a few years off they have taken home the state title once again. The team senior's mock trial journeys are coming to an end, but not without lots of fond memories to take with them. Four seniors talk about their experience with mock trial, the connections they made, and the lessons they have learned.
The remaining seniors started at different years, but all were nerve-wracked to try out because of the competitive reputation the team has built up. Amanda Brown '21 said that her tryout Sophomore year was, "really intimidating and scary because you're surrounded by all these really smart upperclassmen, but the sense of community is pretty amazing and they're all super nice and helpful." Sophie McDowall '21 had previous public speaking experience, so that portion wasn't quite so new to her. However, mock trial is much more than just that, and Sophie mentioned, "learning all the different evidence rules can be very complex and difficult to understand, so making objections and arguing those was really hard for me at first." It took a lot of dedication for these seniors to become a part of something relatively foreign to them, though Paden Nichols '21 said, "It's a big commitment but I've always made time for it. It's always been a priority, never something that I dread having to make sacrifices for".
A common denominator between all four mock trial members was that the community formed within mock trial was something truly special. Amanda Brown '21 said, "Everyone is so supportive, my teammates are what made it easy to spend two hours a day working on a case". Although it could be rigorous, the four learned a lot from their time spent competing. They say their overall confidence while speaking has improved exponentially, and that its now much easier to compose their thoughts and convey them in an understandable way. They mentioned developing a knack for thinking on their feet, as trials could often be unexpected and rivalling teams could pull out something they hadn't prepared for. Dario Cababa Wood '21 said, "being confident in responding to things on the fly is a skill you'll pick up in mock trial, and it's definitely something I'll be continuing to use in my life."
After all their hard work, the Prep mock trial team was confident going into state. Nichols '21 said "We went into each trial thirsty for blood. We wanted to put everything out there, play all our cards, and it worked out for us in the end". When asked how she feels about the approaching nationals, McDowall '21 said, "Our team is really strong this year, so I definitely think we can do really well". The Prep community is incredibly proud of the hard work this team has put in and is rooting them on as they prepare to represent Washington.
About the Writer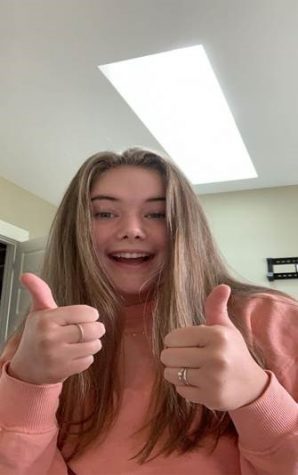 Lauren Teders, Staff Writer
Lauren Teders is a freshman at Seattle Prep and is so excited to begin her first year on The Panther. Lauren loves to sing and act and is planning on trying...