The Season That Almost Didn't Happen
"Special," "Perseverance," "Compressed," "Adaptive," "Family." These are some of the ways that coaches and players described what will always be an unforgettable season of sports.
Despite many setbacks and limitations, the Panthers were able to have an amazing 1st Sports Season. Through the ups and downs, Prep managed not only to put together teams and arrange a season, but also to have huge success and even make history.
Here's a quick recap of some of the biggest accomplishments:
Cross Country—
Girls—2021 Metro League Champions; State Champions; 6 runners finished in the top 25
Boys—2nd in Metro Championships
Football—#1 overall seed in Metro League; Defeated O'Dea for the first time in 41 years
Girl's Soccer—North Division Metro Champions
Girl's Swimming—2nd in Metro League
Girls Bowling—2nd in Metro Championships
Volleyball—3rd in Metro Championships
Golf—5th in Metro Championships
All of these accomplishments occurred within the first sports season of the school year–an abbreviated season that included sports that would traditionally compete during the fall. When asked, "Did you prefer playing in the spring, rather than in the fall/winter?" players and coaches alike agreed that although they would rather play their sport in the fall or winter like usual, they were just happy there was a chance to play this year. For example, Varsity Volleyball Coach Marcene Sullivan explained, "Much rather play in the fall.  The spring was filled with many activities besides volleyball. The players were active in Mock Trial, Club volleyball tournaments & practices, college visits, quarantines, etc. I think we only had 2 matches that included our entire roster."
The Spring does tend to be busier than the Fall, as Senior and Varsity Football Player Kendin Alexander expressed, "I prefer Fall rather than the Spring…. Some of the disadvantages are getting complacent with how long it takes until playing in the Spring, not wanting to work out every day, and feeling like you can put stuff off until tomorrow to get better."
This season was full of strong performances and great achievements. Each program was exceptionally proud of what they had accomplished. Varsity Swim Coach Kirsti Rochon shared, "We worked really hard to treat this season like any other; we had daily practices, technique focused training, senior night, fun Fridays and even swim meets (albeit virtually). We wanted the athletes to still have the experience that they deserve, and I think we were able to provide that!"
Bowling Coach Mike Massoth added, "The rate of improvement from each girl this year was impressive.  Their efforts paid off the second half of the season and in the tournament."
Overall, this sports year, while filled with much uncertainty, still produced great results. This season was full of unprecedented challenges, but the coaches and players at Seattle Prep met them head on. Volleyball Coach Sullivan said the biggest challenge for her team was, "The constant changing of line ups due to travel quarantines, other activities & injuries."
With so many moving parts and obstacles this time of year, teams faced additional challenges. Swim Coach Rochon explains, "It was a mental battle as we literally raced against ourselves – mentally, this is super tough to stay motivated for and support your teammates. Physically it was challenging because of restrictions in the pool; we could only have 4 swimmers per lane, and we had to keep 6 feet apart in the pool itself meaning not everyone could swim a full length at times."
Additionally, Bowling Coach Massoth explains how their biggest challenge was experience, "We were the only team in Metro that had new bowlers on the varsity roster."
Finally, the coaches and players were asked how the shorter turn around until next season will positively and negatively affect them. Coach Massoth began by explaining, "I've always had a great team to work with and this year was no exception.  I really can't wait to get back on the lanes again. The shorter off season is awesome for the program so we can pick up right back where we left off!"
Varsity football player and graduating senior, Alexander '21 shared, "This will benefit the team because there is already such comradery among them. Now this turn around won't feel like it's been too long since they have been around each other. And with the last game still so close, they will surely still have that taste for wanting to make up for it against O'Dea."
It's clear that the Panthers are ready to get back out to the gym, field, bowling alley, swimming pool, track, or wherever they can play their sport and have a great time.
The Prep community as a whole can be super proud of the athletes that fought through the difficulties and gave this season everything they had. After all, this was "The Season That Almost Didn't Happen."
About the Writer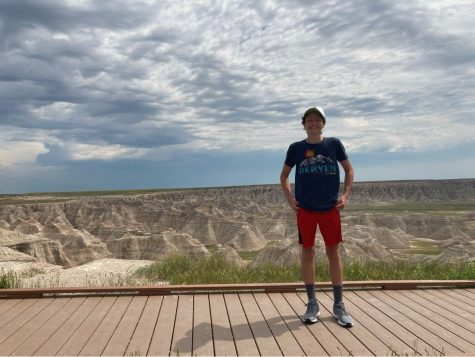 Eamon Mohrbacher, Staff Writer
Eamon Mohrbacher is a sophomore at Seattle Prep and a staff editor on the Panther. He is currently in his second year as part of the Panther team. Other...