What Draws Them Back: Prep's Community of Alumni Teachers
Seattle Prep has a large community of teachers who are alumni, and this sets us apart from many other schools. Attending a highschool and then returning to teach there provides a different and interesting perspective that is often overlooked. Ms. O'Brien who graduated in 2013 and now teaches science said, "It was an odd feeling when I first came back to Prep not as a student. The faculty and staff were very welcoming though and it was an easy transition…" 
 Mr. Meza, class of '92, began teaching science at Prep right after college. He highlighted the fact that he was working alongside many of his former teachers. "I started back right out of college!  Only 4 years had gone by & now I was teaching & learning right alongside my former teachers – & so many of them!  Senor Café, Mrs. Sullivan, Ms. Ritchie, & many more!  I had just had Mr. Niggemeyer for Physics my senior year & now I was teaching Physics alongside him in the Science Department.  It was equal parts out of body experience & best situation ever.  It did not take long to recognize that we were all in this together."  
Many students fail to recognize that many of our teachers were walking down the same halls as students not long ago but, there has definitely been some significant changes since then. Some of the halls that we walk down now weren't even here yet! When asked how Prep has changed, all of the teachers interviewed brought up the physical changes to the space. Meza highlights how he used to park right on top of Ignatius 103. Another thing that multiple teachers mentioned is how technology has been implemented into our learning so much more. Prep's teaching has progressed with modern technology, "If you had told me that students would be sitting in Collegio classrooms and every kid would have their own surface for class, my mind would have been blown. There are so many benefits to teaching social studies when our student population is more connected to the world via the technology at their fingertips. I hope that we continue to harness the power of developing technology in our classrooms." Said Collegio teacher Cait Slack. 
Most importantly, the teachers talk about how their time at Prep greatly impacted and benefited their career and life. O'Brien talked about how the educators at Prep's passion for teaching and learning is what inspired her to go into education. It's important that as students, we know that the teachers can relate since they were highschoolers once too. Slack said one of her favorite parts of Seattle Prep was, "the emphasis that my own teachers always put on relationships with students. I always felt like my teachers cared about me as a person and understood that I had things going on in my life outside of being a student. I try to bring that same mentality to my own teaching and hope that my students see that they are valued as whole people." All the teachers shared the same feeling that going to Prep shaped who they are as an educator and lastly Slack shared, "I can't wait to reach a point where my former students are teaching with me!" 
About the Writer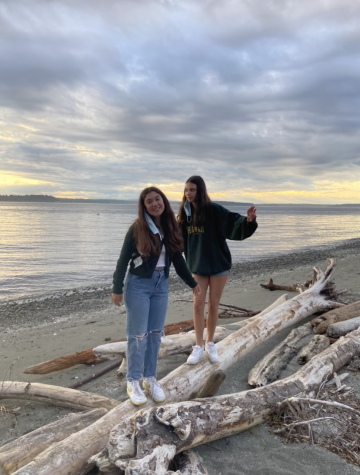 Delphine Mock, Staff Writer
Delphine Mock is a sophomore at Seattle Prep and is looking forward to her second year as a writer on the Panther staff! She loves spending time with...