See Ya Later Yellow Racing Stripes: Tips on Parking at Seattle Prep
Scrapes, collisions, tickets, JUG assignments, and unfortunate yellow paint jobs. Since its opening in the fall of '98, many students have fallen victim to Prep's ruthless parking garage, as well as the complexities of parking in the neighborhood surrounding campus.
According to a poll on the Prep Instagram, out of 183 students and staff, around 1 in 4 have hit a pole in the Prep parking garage. Prep Traffic Coordinator and Neighborhood Prefect Mr. Burks shared that if he were to estimate the number of parking mishaps that occur in a year, he would guess "100," with the most common being "hitting a pole, and hitting other cars second."
With so many people having experienced an accident in the garage, stories are plentiful. Alum and former Panther Visuals Editor Grace Weiand '20 shared her story in her ASB election speech: "Second day of junior year…driving my carpool…I was far too confident pulling into my spot…started turning, almost immediately smashed my passenger side door into a yellow pole…ran around the garage looking for help and Stearns came to the rescue and unwrapped my car from around the pole."
It is also essential to practice correct garage etiquette; as Kate Allen '21 said from personal experience, "I got JUG for turning left out of the garage."
The garage isn't the only place where parking mishaps frequently occur; students parking in the neighborhood around Prep are not exempt. Commonalities here are parking tickets, and Burks shared that the most common are "tickets for unmarked crosswalks."
In addition to unmarked crosswalks, it is crucial to be aware of a car's distance from driveways, as five feet is the magic number. Camille Hardie '21 said she "got towed for parking too close to a driveway and had to pay $300."
To curb these parking mishaps, Burks shared his expertise on parking at Prep. His tips include:
"First of all, stay off your phone. This goes for students, faculty, staff, and parents."
"Slow down."
"Practice before you park in the garage for the first time—the garage isn't very user-friendly."
And lastly, as many students fear hitting another car (especially a teacher's) above all else, Burks shared the most polite way to go about this situation is to:
"First off, write a note."
"Then, find [Burks]. [He] can let you know whose car it is."
"Then email the person you hit to follow up and apologize."
With little room for error, Prep's parking situation is a tricky feat.
Hopefully with Burks' tips, Prepsters can feel some relief. Stay safe on the roads, Prep!
About the Writer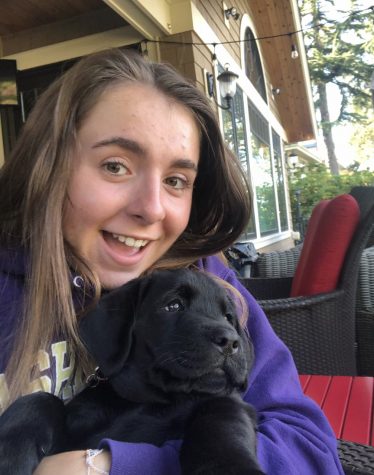 Kate Ridgeway, Managing Editor
Kate Ridgeway is a junior at Seattle Prep and she is co-Managing Editor for The Panther this year. Kate is an avid laxer and golfer but unfortunately has...