Student Receive Vaccine in Health Care Internship
Some students at Prep have been able to be exposed to the health care field and do work and internships that allow them to prepare for their futures in a hospital setting. These opportunities have also given these Seattle Prep students a chance to receive the Covid Vaccine.
One of the students in this program that have received the vaccine is Georgina Nicholls '21.
Nicholls '21 was accepted into the Junior Heath Scholars program at Swedish Hospital where high school students shadow a current Health Scholar and observe how the patient care and administrative teams work together to deliver excellent care and to explore whether a career in health care that right for the student. Specifically, in the program, scholars are given the opportunity to observe care in various clinical environments. Some of these environments may have graphic content, including but not limited to, patient nudity, graphic skin conditions, open wounds, injuries due to weapons, patients in distress, and graphic language.
Nicholls received the Moderna vaccine and was very happy about finally getting it because she has been very strict with COVID precautions because she lives with those who are at high risk. Receiving the vaccine means she will be able to see friends again and go back to school soon. At this time, she has received both doses.
Nicholls said, "The first dose, I woke up feeling a bit nauseous but no other side effects. The second dose, I felt very sick the next day. I had a headache, lack of appetite, chills and stayed in bed all day but it wore off by the evening. It felt like having a bad dose of the flu but only lasted about eight hours. Since then I haven't had any symptoms".
Nicholls added "I am grateful for modern medicine and that I was eligible to receive the vaccine. In my eyes it was 100% worth feeling bad for one day because now I don't have to be as stressed about contracting the virus and have hope that things will be back to normal soon".
This opportunity for Nicholls and other students to receive the COVID vaccine present us all with a glimmer of hope for a safe and healthy future and for the Prep community to function normally.
About the Writer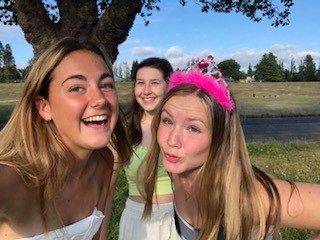 Caroline Casey, Staff Writer
Caroline Casey is a senior at Seattle Prep and she is so excited for her third and final year on the Panther staff! She loves playing soccer, swimming,...