Get to Know the Seattle Prep Counselors!
Although wellness is often interpreted as eating right and exercising, it is so much more than that. One of the most important aspects of wellness is mental health, and with Covid, maintaining a healthy mind has been more challenging. To help with these challenges, the most accessible resources at Prep – the Counselors—have worked hard to engage with students through Zoom.
In a normal school environment, Students can visit with their counselors in person and have flowing conversations with them. Also, in the process of these conversations, students can learn more about their counselors as well. While online, the Zoom counseling resource is still accessible, although students are less likely to learn more about their counselor. To fill this void, here are some important and intriguing facts about Seattle Prep counselors and how they have handled the pandemic in the eyes of mental health.
Psychologist Dr. Barry Rosellini, often referred to as "Dr. B", is one of the three counselors on campus. Rosellini started his working debut at the "BigFoot Carwash on Lake City Way" as his first job ever.
More recently, before Prep, Rosellini worked at various jobs in the mental health field. He described, "I worked in the UW Athletic Department counseling student athletes. I also worked at Opal (an eating disorder clinic) and have a small private practice where I see clients for mental health issues such as depression and anxiety."
Rosellini has been involved in many different fields of mental health and uses his vast knowledge to help Prep students. In addition to his knowledge of mental health, Rosellini went to Prep! From joining the Prep community to now, Rosellini enthusiastically exclaims, "I love this job."
One of his favorite parts of working with high school students especially is the fact that the "high school years can be some of the biggest learning years in so many ways."
Rosellini enjoys being a part of everyone's journey whether it's pointing them in the right direction or helping his students work through a problem. During the pandemic, Rosellini has learned that counseling can happen anywhere. At the beginning of the pandemic he noted that, "at first it was an adjustment. It felt weird interacting through a screen."
Rosellini discovered that even while working on zoom he can still interpret body language and facial expressions similarly to in person interactions. The pandemic has also sparked reflection. For example, Rosellini has gathered some advice that he has frequently told students during the pandemic. He said, "control the controllable. With the pandemic creating a lot of unknown and shifting a lot of the way we do things, we must focus on what we can control."
Rosellini capitalizes on that fact that the unknown is inevitable and to get through these unprecedented times we must accept them, learn from them, and, if necessary, discuss with peers or counselors about them.
Another counselor on campus is Mr. Jim Johnston. Johnston majored in biopsychology and biology. Johnston was not originally a counselor at Prep, he began as solely a biology teacher. Later in life he "returned to school for a counseling degree" and came back to be a counselor at Prep.
Similar to Rosellini, Johnston elaborated, "I've always enjoyed working with high school students. It is such a significant developmental time of life and I appreciate the ability to guide students through the ups and downs of their journey."
Johnston enjoys interacting with students on a deeper level that can help them discover more about themselves, especially during this crucial time. Johnston also noted that, "I love the energy of the high school environment."
The energy of high school is truly contagious, and Johnston has essentially caught the bug. Johnston also enjoys working with his colleagues and describes his relationship with them as "tight-knit."
The pandemic has brought a significant amount of uncertainty to Johnston's counseling opportunities including the inability to be in person, although, he focuses on "controlling the controllable" just like Rosellini.
For example, one of the most challenging aspects of counseling is that he "has less informal interactions with students."
In-person conversations bring more natural dialogue whereas in the online format, counseling sessions are scheduled and in strict time slots. Johnston looks forward to having students on campus in the coming weeks so he can enjoy the energy of high school and get to say "hi" to students in the halls once again.
The third and final counselor to get to know is Ms. Boyle! Boyle majored in English and education and minored in sociology. She has worked in many schools prior to coming to Prep including Blanchet – another school in the Metro League. After her initial teaching jobs, she decided to attend graduate school and got her Master's Degree in counseling psychology. With her degree in hand, she traveled to Seattle Prep and has been a counselor since 1991.
While reflecting on her favorite parts of working at Prep Boyle describes, "Prep empowers counselors to work directly with students and help them academically, socially, emotionally and have a schedule that allows [counselors] to be there."
She loves having the ability to grow relationships with her students and how her schedule creates a lot of space and time to create those relationships. Having time to establish baseline relationships has proved to be easier during the Pandemic, although, Boyle notes that is has taken more effort to grow and maintain her relationships while online. Boyle looks at the zoom situation with an open mind even though "zoom talks are really not as helpful as in person talks."
Even with the added challenge of Zoom, Boyle is grateful to get the chance to interact with her students. During her counseling sessions she always emphasizes the importance of support. Boyle describes, "just reaching out to say, I am here for you, just letting students know they can make an appointment any time and we will be happy to help."
As Ms. Boyle describes, the purpose of Prep counselors is to provide students with a constant line of support at any time. With that said, Prep counselors are super excited to have students on campus for more informal interactions and plenty of mask covered smiles. So Prep students, next time you find yourself on the second floor of Ignatius, do not forget to drop into the counseling office and maybe ask about Johnston's biology major, Rosellini's Private Practice, or what Prep was like in 1991 from Ms. Boyle's perspective.
About the Writer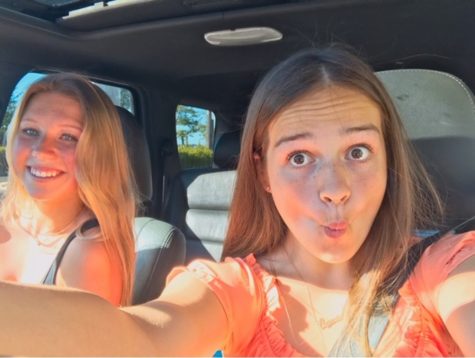 Gabby Stuart, Staff Writer
Gabby Stuart is a Junior at Seattle Prep and has been on the Panther staff since her sophomore year. She enjoys swimming in the lake, playing basketball...