Cameras On– Is it Best for Students?
Each day, Seattle Prep students who stay on-call for the entirety of four classes spend over 4.5 hours on Microsoft Teams or Zoom in virtual classes. During these classes, as stated in the Seattle Prep Digital Learning Protocols Document, "Video must be turned on, and student faces must be visible, at all times during class or group Zoom or Teams sessions, unless explicitly instructed by a teacher to turn video off." As school has now been in session for five months, students and staff hold mixed feelings as to whether this policy is best for students, or not.
These Digital Learning Protocols were written and approved in summer 2020 by Prep's administrative team made up of Ms. Luby, Ms. Kheriaty, Mr. Stearns, and Mr. Kelly.
This policy contrasts with the Seattle Public School district (SPS), in which according to the SPS Technology FAQ webpage, "educators can request, but not require, students to have their video camera on during live instruction."
Seattle Prep classes are based on student and faculty interaction, which influenced the Prep administration's decision on the cameras-on policy. "Teachers are focused on engaging students in the learning process, since research suggests that optimizing student engagement results in optimal student learning. The experience of being present in the classroom and interacting with peers and teachers is a key component of the learning process," said Ms. Kheriaty and Mr. Stearns in a joint response.
"Therefore, when we are on campus, we expect students to be present in class and participate actively (not just listen passively). Though we cannot re-create that experience exactly when we are in a virtual environment, our expectations for student engagement remain true. In order for students to learn and grow, we want them interacting and participating in class as fully as possible. We believe that this level of participation requires having cameras on," added Stearns and Kheriaty.
Prep English teacher Ms. Dotsey spent the first semester advising seniors writing their college essays. "I live alone during the pandemic and have asthma, so I'm a higher risk bunny than the average bear. I don't actually have a lot of time with people, so spending time with and getting to see the senior class through one-on-one Zoom made a huge difference in my quality of life," she said. "I've always loved talking with students about all kinds of things, so it was incredibly lifegiving for me and gave me a real sense of hope for the future."
Prep Spanish teacher Sr. Martin sees this policy under two lenses—equity and connection. "When you have a face-to-face conversation, as opposed to me talking with my camera off, it's a more mutual connection," said Martin. "Sometimes communication is expressive. As a teacher, we have the chance to look at you to see if you understand. So much of how we teach is through body language. If I see that you don't get something, you'll give me some facial indication."
Martin also said that especially in the language-learning environment, cameras on are helpful to look at the intonation of student's words and how they are saying consonants or certain syllables.
"I can also see where it can be an issue for some of our students. Equity wise, not everyone has the same living room situation, bedroom situation, household—if this was me in high school right now, I would be in the same bedroom as my two brothers," added Martin. "I think that that can provoke some anxiety and cause some students not to be on camera, so I think that's why some of my students– and I allow it, flip their camera higher towards the ceiling because they don't want to show off their bedroom, which is their sacred place. There's a fine line that we have to understand and be respectful to hear out the student who has an issue."
In the "keeping cameras on" decision process, the Prep administration recognized that everyone's learning environment at home looks different.
"However, given that there is an option to use a background photo, we were comfortable knowing that students who would prefer not to share their learning space or details of their home in their class zoom calls could opt to use an alternative background," said Kheriaty and Stearns.
The Seattle Prep Administration emphasizes that while they felt strongly that cameras should be on based on the background photo option, they will always support individual students and their needs through Prep's Counseling Department.
In this crafting this policy as well, Prep administrators considered the concern that there are students who struggle to see themselves on camera, become more self-conscious in a virtual learning setting, or would prefer not to be seen.
"We know that whether we are in school in-person or in school virtually, there are challenges that individual students may face with the learning environment, some physical and some mental. We do, unfortunately, have students who suffer from social anxieties in regardless of our learning environment," said Kheriaty and Stearns.
They see the added anxieties for students, saying, "For some [students], this is exacerbated by having to be in person every day, walk halls each day, navigate lunchtime stressors, or be in class with particular peers. For others, this is exacerbated by being on screen. We are very sympathetic to students who suffer in these ways and try to offer support systems for them as they work through these mental health concerns. We do our best to create a safe and healthy learning environment for all students so they can be comfortable being in community, whether in our classrooms in person or virtually."
In an Instagram story question feature, Prep students had mixed reviews about this policy.
Some students had positive feedback. "I think it's good– it builds a connection and helps motivate me to focus," said junior Anika Poythress.
Several freshmen seem to enjoy it, as Will Huddleston '24 said, "I think that this is a respectful and nice rule because it forces people to participate." Brooke Wilwerding '24 said, "I think it's good because it makes digital learning more exciting," and Sarah Willson '24 said, "It forces me to pay more attention."
Junior Joaquin Galindo-Navarro responded as well, saying "It seems fine to me! I'm just glad to see my friend's faces and reactions."
Other students expressed dislike for it.
Sophomore Paloma Hissong said, "I think it makes sense, but I wish they wouldn't get mad if only part of your face shows."
Junior Sophie Docktor said, "I don't love it, it kind of stresses me out."
Junior Austin Harnetiaux said "[The policy is] Kind of extreme sometimes. Sometimes it's nice to just turn your camera off and listen."
Senior Ali Martynovych said, "I understand wanting to see some faces from a teacher's perspective, but not everyone needs to be forced to turn it on if they don't want to when some people do it."
Senior Lydia Miller expressed some understanding and concern. "I personally think that the cameras on policy makes sense and is necessary for keeping students to at least pay a bit of attention to class and not napping. But, I also feel very awkward and sort of on the spot when my camera is on. I rarely fix my hair or put on makeup for school anymore, so I look pretty gross for most of my classes."
Miller also added, "It is odd because everyone is looking at everyone all the time. In a classroom, everyone is looking forward at the teacher, but on zoom we are just looking at each other's faces. You can't tell who is looking at who."
Ms. Dotsey commented on the "facing the same way" aspect, saying, "I think that the argument I find most compelling about the argument in favor of giving students the choice to have their camera on or off is that it's exhausting to have people look at you close up all day long. It's not the same classroom environment where people are all facing the front, where if someone looked at your face you would know."
"Another thing I find compelling is the whole idea that people don't necessarily want other folks to be able to see into their homes," Dotsey added.
"But, I think that the Prep community is in general doing a great job of connecting despite our distance. I bet after this whole thing is over, we're going to look back on this time and think we did great with a really hard thing," she said.
Students have not received JUG for not having their cameras on or off. However, if students have a reason that they cannot or do not prefer to turn their camera on for class, teachers appreciate communication about it.
Sr. Martin said that he and many other teachers are flexible to a situation or circumstance. "Students message me and say, 'Sr. Martin, today's not a good day for me. I need to turn off my camera for this class and I promise it'll be back next time.' As a teacher, it's great if that's communicated… otherwise I'm left guessing and wondering why a student's camera is not turned on."
Martin added, "I'll say, "what's going on? Is there anything I can help you with?" If they don't want to talk to me about specific problems that's fine– as long as they're talking to the school, because we want to make sure we can document if there's anything happening that we can still help the student with."
Dotsey said, "Sometimes, you might have a bad headache and might need a nap or zone out. I think that clear communication about what we need and how we feel with one another can really stave off a lot of situations where we might be disciplined for something."
"Father Rallanka introduced me to an idea that the Jesuits call the "Jesuit plus," which is looking at the way other people are behaving with the most generous possible interpretation. When students aren't following the policy, I really try to do a Jesuit plus," said Dotsey. "Maybe they're more comfortable without being fully on the screen or I gotta just trust that they aren't looking at other sites. They're responsible for their own learning, so if we're not taking ownership of that, we're the ones of have to deal with the consequences."
"I really do appreciate that I get to see my students on camera. You guys have no idea how much it means to me already to come to my classroom digitally and see that you are here with me also," said Martin. "We're going on this journey together vs. me feeling like I'm by myself."
"It really makes a difference in my day when I can see people's faces," said Dotsey.
As Seattle Prep continues with a hybrid learning environment, students learning from home will still be expected to keep their cameras on.
"We recognize that the lack of in-person school has left students feeling isolated, lonely, and disconnected from friends and classmates," said Kheriaty and Stearns.  "Our teachers have spent time helping to foster community within our classes. They've been intentional about connecting with students and providing students with opportunities to connect with one another."
"Student engagement is directly linked to student learning. Therefore, I believe that allowing students to leave their cameras off would have a direct impact on student learning," they add.
About the Writer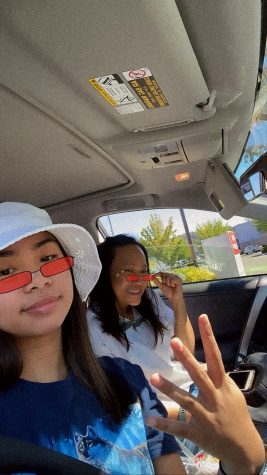 Tia Flores, Online Editor
At a staggering 5' 1 ¾", senior Tia Flores is absolutely thrilled to return for her fourth year on The Panther as co-Online Editor. In her spare time,...