Seattle Prep Students Share Favorite Places to Exercise
During these strange times, many people have felt isolated. With sports being restricted, there are fewer outlets for students to exercise in particular. After spending long periods of time cooped up indoors, many people have been inspired to take up new hobbies. Something that many Seattle Prep students and people all over have taken up during COVID is exercising.
For some athletes, gym closure has been a big issue. Even now that gyms are reopening, many people may still feel uncomfortable going to them. Seattle Prep runners and athletes shared their favorite places to get exercise in the Seattle area in a COVID friendly way.
Junior Kennedy Klein shared that, "I personally love to run at Greenlake because it's always so pretty and it's the perfect length around the lake for a nice run!"
Senior Addie Roza also explained that, "One of my favorite runs, and one I have done over 200 times this last year, starts on the Magnolia Boulevard and stretches all the way into Discovery Park.  The beauty of the Puget Sound is honestly so breathtaking, which is not good when you are running because you need oxygen more than ever, but it is worth it."
Roza added that, "Another fun run is going around all of Lake Union. You get to see Queen Anne, Fremont, Gas Works, Downtown, and Capitol hill."
Freshman Jack Henzke said, "One place I like to run at is Alki Beach. I like going there to run or bike around with friends. I do this to get some exercise to stay and shape and to train for cross country. Also, getting fresh air outside is nice."
Matt Kennedy '24 shared that, "Lincoln Park is a great place to get some exercise in West Seattle. The forested area of the park has an extensive trail system with great views of the Puget Sound. Being right the Fauntleroy ferry terminal, Lincoln Park has great public beaches and beautiful waterfront areas prime for picnics or a break from all of the trees of the area. Whether you want fast, flat runs, steep forested hikes, or shaded forest walks Lincoln Park has you covered."
Audra Hanlon '22 explained also that, "One parks to go to is Magnuson Park. Magnuson has a lot of trails to walk or run on, and there are a lot of beautiful viewpoints that overlook Lake Washington. In the summer, Magnuson is a popular spot to go swimming. The park itself is very large, and has so many different areas to explore. I live fairly close to Magnuson Park, so I spend a lot of time going there to get some exercise."
Jack Henzke '24 added, "I really love going to the Seattle Bouldering project. It is a very fun place to go with friends and helps me improve my agility and upper body strength."
About the Contributor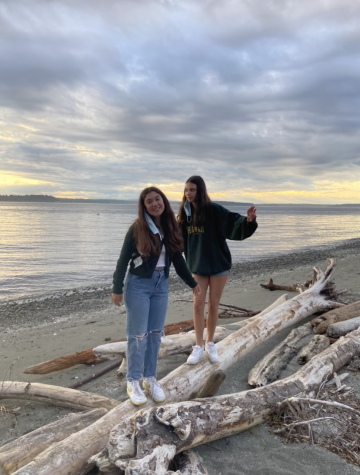 Delphine Mock, Staff Writer
Delphine Mock is a freshman at Seattle Prep and looking forward to her first year on the Panther staff! She loves swimming, spending time with her friends...