Adventure Awaits!
Outdoors Club Gives Students Chance to get Outside Together
What happens when nature, fresh air, exercise, and a great time are mixed together? The Outdoors Club at Seattle Prep! The Outdoors Club offers a chance for students to spend time in nature, while enjoying fun activities such as hikes, scenic walks, and rock climbing. Audra Hanlon, Seattle Prep junior and one of the club's leaders expressed, "The Outdoors Club is focused on bringing people together and getting outside."
She continued, "The Outdoors Club primarily goes on hikes, but we have done other activities in the past. Just last year, we were fortunate enough to be able to go rock climbing. We have also gone on a lot of scenic walks, which may not classify as hikes."
Hanlon's classmate and fellow club leader John O'Donnell '22 explains some of the details of the club. "The Outdoors Club is made up of all grade levels and welcomes anyone who wants to join. We plan hikes around our schedules and timing with school. The invite is sent out to the whole club and a meeting will be held to go over the hike and gain interest for it."
Sunday, January 24th, marked an exciting day for the club, because they were allowed to go on the first hike of the year!
Hanlon recalled, "We were able to go in two different groups to Discovery Park." Discovery Park is the city's largest public park, with 11.81 miles of trails. It is located in Magnolia, and offers views of the Puget Sound. "We did around a three-and-a-half-mile loop, in which we saw the Puget Sound and other beautiful views. Splitting into two groups allowed us to maximize the amount of people that could join us on this outdoor excursion."
Next up could be an awesome hike with breathtaking views, or perhaps rock climbing with your friends in the club. Whatever is ahead on the agenda, it's sure to include laughter, memories, and an exciting day.
Membership is relatively relaxed and flexible, so there isn't a huge time commitment. Hanlon explains, "As a club leader, I communicate with Mrs. Young, the teacher who created this club, to plan fun activities and organize meetings for the club. We meet every couple of weeks on Zoom to announce updates about our club or possible plans for an outdoor activity…. If someone is interested in joining the club, they can email Mrs. Young to get added to the email list. Members are not required to attend anything, but will just receive information about hikes if they would like to participate."
Hanlon added, "With so much uncertainty, we do not have a lot of planned activities for the future." Although the current pandemic has put a damper on the club's plans, it has not put a damper on their enthusiasm.
So, if you'd rather climb to the top of a hill, rather than the top of your stairs; hike through the trails of a park, instead of from the couch to the fridge; or see views of nature, as opposed to views of your classmates' foreheads, then the Outdoors Club may be for you! Adventure awaits!
About the Contributor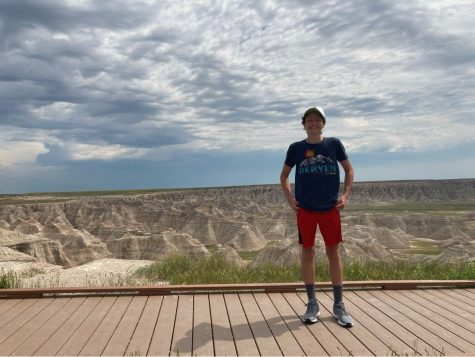 Eamon Mohrbacher, Staff Writer
Hi! My name is Eamon Mohrbacher and I am a freshman at Seattle Prep. I enjoy playing soccer, basketball, and golf, and I love to read. I live with my mom,...