Finals Week Moved to December 15th to 18th
It's beginning to look a lot like Finals Week! As December rolls around, there is so much to look forward to. The vibrant Holidays, a brand-new year, and this year… Finals Week came early. Instead of the standard week of finals at the end of the semester, Prep has decided to hold finals on December 15-18.
This decision was made all the way back to before quarantine. Each subject department met and discussed the success of the previous finals week schedule. As Assistant Principal of Academics Mrs. Kheriaty described, "the purpose of finals week is a desire to prepare students for college and meet the needs of our students as a whole."
With these goals in mind, the departments worked to achieve a finals week that supported both yearlong and semester courses. Finals were originally held in mid-January at the end of the semester and when students returned to classes, they would begin new curriculum in semester courses although, in the yearlong courses this was not the case. These were one of the biggest aspects assessed when determining the new dates for finals this year. Kheriaty explained that "during yearlong courses we typically wrap up and assess a chapter or unit prior to Christmas break and then launch into a new unit or chapter after Christmas break."
This timing made it so year long courses learn one to two weeks of material after break and then pause for finals just to then restart the new material. The departments and Kheriaty want students to flow smoothly into new material and have as much time to study for finals as possible. Kheriaty's plan is not permanent. She looks forward to obtaining feedback from students and faculty after the December finals week to determine whether this plan was or was not effective.
Mr. Rosato in the math department believes this decision will provide a steady acceleration of material after Christmas break. Rosato wants to create a final that can help students "show their knowledge of everything that they have learned so far."
He believes that having finals in December will help him gather all the information for the final efficiently and will help his students study the material without being corrupted with information that will not be on the final. In total Rosato is looking forward to having a much-needed break. He is also excited to give his students a "brain break" during the Holidays without any stress of finals hanging over their heads.
Lastly, he believes the new schedule will "give teachers a way to analyze finals and understand what students got wrong."
These trends can signify what topics may need to be refreshed and what topics students feel fully comfortable with. Rosato notes that, "College prep entails learning from your mistakes."
Finals can be a stressful time for everyone at school from busy teachers grading assessments to students chugging away reviewing material. December finals are a way of eliminating Holiday Break stress and bringing everyone a newfound "peace of mind" during the holiday season. In a way this new method is a "present" to everyone at Prep and Ms. Kheriaty looks forward to analyzing the success of this "gift" in the future.
About the Writer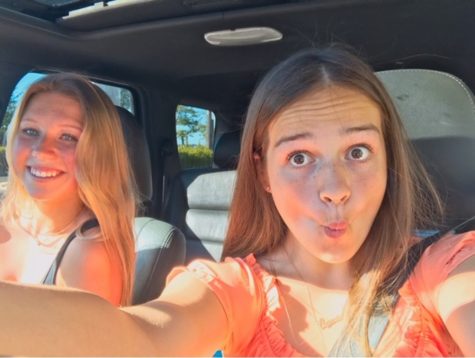 Gabby Stuart, Staff Writer
Gabby Stuart is a Junior at Seattle Prep and has been on the Panther staff since her sophomore year. She enjoys swimming in the lake, playing basketball...