How are the New Lockdown Restrictions Impacting Sports and Co-Curriculars?
Just 11 days before Thanksgiving, Washington Governor Jay Inslee announced new restrictions regarding COVID-19 due to soaring case numbers. The new rules consist of a ban on indoor gatherings, indoor dining, and a 25% capacity limit to all retail and grocery stores. This unfortunate news may feel like a step backwards in the progress Washington State has experienced. So, is this a step back for Seattle Prep too? What impact does this increase of statewide restrictions have on Seattle Prep?
The restrictions due to COVID-19 have impacted sports and co-curriculars for quite some time now. However, with the recent increase of restrictions it seems that indoor sports have been impacted most. According to Seattle Prep Dean of Students, Mr. Stearns, "WIAA falls under youth sports programming which means we have had to restrict indoor sports from gathering indoors. We still have many sports continuing to meet outdoors in small pods."
Although the new restrictions have impacted indoor sports, the restrictions that are already in place have impacted outdoor sports like football as well. Ben Porter '21, member of the football team, described the shared disappointment of not having a football season: "As an underclassmen, we always looked up to the prospect of being able to play together in our senior year and without a season this fall it feels as if there has been a hole left in all of our lives. Football has become much than a game for all of us, and in the past few years we have created a family that we could all rely on and turn to."
However, Porter also describes the pride he holds for his teammates and coaches for the work they have been able to accomplish amidst the pandemic. He said, "During the summer and fall we were able to safely achieve team workouts, team meetings, and a 5-week practice camp without a single case. These tasks were not easy, and we have come out on the other side really hungry for a possible spring season which is late for us but is better than nothing."
The pandemic put a strain on other outdoor sports such as lacrosse. Senior Ava Allison, captain of the lacrosse team, said the lacrosse team held captains practices from September to early November with the coaches, but they had to stop because people kept not showing up which made it difficult to plan things and the COVID cases went up. She said, "It's been difficult because we have to wear masks during training and it's hard to not hug friends after not seeing them for so long"
Activities such as theater have had to get creative during this time. They have been rehearsing every day on their production of "A Christmas Carol" which is to be recorded in the theater spaced 18 feet apart from one another. Cameron Osterman, member of Drama Club and Theatre, said, "I kind of knew that my on-stage acting career at Prep was probably over."
Similar to theater, Pulse has adapted to changing circumstances through learning dances with video tutorials, practicing over Zoom, and filming with masks on. With COVID cases spiking and a member that tested positive, members of Pulse now send in videos that are then edited. Pulse Captain Alex Battle '21, explained, "We are trying our best to keep our family together and continue to communicate and check in regularly. We also don't want to lose the connection we have with our school, so we continue to work hard to bring performances to the Prep community."
Despite the setbacks sports and co-curriculars have been experiencing during this time, ASB has been working hard to maintain a sense of community that is difficult to reach over Zoom. According to ASB member Ruby Humes '21 "It's been hard to brainstorm community building activities when everything is over Zoom. Our goal is to make everyone feel welcome so we're reaching our hands as far as they can go (virtually) in order to make sure no one gets left behind."
About the Writer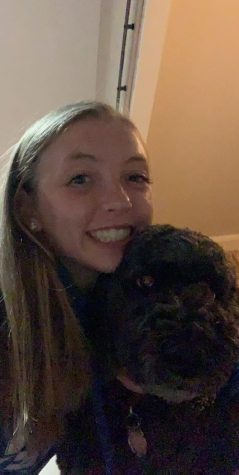 Olivia Manning, Staff Writer
Hi, my name is Olivia Manning and I am a senior here at Seattle Prep. I was freelance writer for the newspaper sophomore year and I am excited for my second...