'Tis the Season for Prep's Giving Tree
Normally around this time of the year, students and faculty would walk onto campus and see Prep's annual Giving Tree right inside AMH's doors, adorned with lights and tags detailing donations for people in need. This year that's a little different. While the Giving Tree—a Prep holiday staple—isn't physically up this year, it is still happening online, and the need for donations is amplified given the increased hardships many in our community have faced from the effects of the ongoing pandemic.
Planning for the Giving Tree started during the first week of November and has been spearheaded by Ms. Bernal and her Faith in Action (FIA) class in conjunction with Ms. Ford and the Prep Community Ministry Department. Despite the switch to a "virtual tree," the tree is still working to provide for the community.
Ford said it was "adapted by creating a "digital tree" to take tags off of for the men at St. Martin's Shelter, by creating a video for the assembly, by moving to Venmo for our "dollar drive" and by hosting a "drop off drive" in the parking garage for our essential needs drive! Basically, we're doing all the same types of giving but within the context of keeping folks distanced, masked, and safe!"
Ms. Bernal's FIA class organized the operations of the Giving Tree by dividing into three committees: Collection and Distribution, Giving Tree Assembly Video, and Marketing Team. According to Bernal, the Collection and Distribution committee led by Alex Battle '21 planned donation collection and organization, and the Giving Tree Assembly Video team led by senior Sophie McDowall produced a video shown to all students outlining the drive.
"The video aims to educate the students about our cause. Why give? What to give? How to give?" Bernal said.
Lastly, the Marketing Team under the command of committee head Caroline Casey '21 "created visuals online that will inform and excite the community to give. The team is in charge of educating the Prep community and promoting our fundraising and needs drive using social media" Bernal added.
Wondering what to donate? Freshmen and Seniors are tasked with donating new socks for Urban Rest Stop. Urban Rest Stop is an organization with locations around Seattle that provides people experiencing homelessness with restroom, shower, and laundry facilities at no cost to them. Sophomores and Juniors are also contributing to Urban Rest Stop with their asked donations of basic hygiene items. This includes full-size shower products, feminine products, toothbrushes, toothpaste, and laundry soap.
Besides grade-level donation requests, the Giving Tree is also asking for people to sign up via Sign Up Genius to purchase gifts for the residents of St. Martin's at Westlake. St. Martin's provides housing for men ages 55 years and older who have experienced chronic homelessness.
Additionally, the whole school is asked to give monetary donations to the Seattle Clemency Project (SCP) and Jesuit Restorative Justice Initiative (JRJI). Several Prep students interned with SCP this past summer, and Prep's Global Justice Coalition continues to work closely with both organizations that seek for a more just criminal justice system. SCP provides imprisoned people with attorneys to seek early release from their sentences and JRJI offers pastoral ministry to inmates and their families with a goal of achieving restorative justice.
Ms. Ford added that you can drop off your donations to the Prep parking garage on Sunday, December 13th from 11 am to 2 pm, and that "the garage will be decorated, we'll be playing Christmas music, we'll be in costumes, and there will be hot chocolate and candy canes for everyone to who drops off their donations!"
While different this year, Prep's Giving Tree is still fulfilling its duties to serve our greater community and is working to build the Prep community stronger in its push towards the Grad at Grad goal of being committed to justice.
About the Writer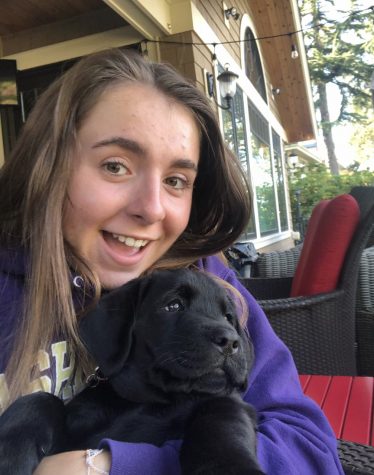 Kate Ridgeway, Managing Editor
Kate Ridgeway is a junior at Seattle Prep and she is co-Managing Editor for The Panther this year. Kate is an avid laxer and golfer but unfortunately has...