Self-Care is Healthcare
In recent years, the term "self-care" has become more common in today's media. Meditating and sleeping apps, wellness podcasts, and yoga enrollment have skyrocketed in the past decade. Taking care of one's physical and mental well-being may seem like a trend, but it shouldn't just be an activity that will phase out of popularity. Self-care should be practiced every day, as it is essential to maintaining a healthy mind and body.
Prioritizing one's self isn't always easy, especially at a college prep school. Students are always on the go to attend sports or arts practice, lead extracurriculars, and complete their many assignments— leaving "me-time" last on the agenda.
"The better we take care of ourselves physically, mentally, and spiritually, the more effective we are in the world and the more healthy relationships we have," said Prep counselor Mrs. Boyle.
For improving mental health, Boyle recommends mindful exercises such as meditation and daily intentional breathing exercises, as well as going on walks and paying attention to what surrounds you.
For spiritual health, Boyle said, "It's not necessarily all praying, but also taking the time to intend good during your interactions with people, taking time to care for others even though they're far away, and putting your thoughts and feelings on paper. It would be a big gift to your spiritual being and the spirit of someone else."
Though self-care involves reaching to others, "it involves spending time with yourself, said Boyle. "It involves loving yourself, being self-compassionate, and motivating through positive thought, not being someone who would talk badly to themselves. Just the idea of becoming your own best friend is one of the best suggestions for self-care I could give."
Yes, taking care of oneself can include doing popular face masks and bath time. However, it also includes getting enough sleep, exercising, and eating a balanced diet. The CDC recommends at least eight hours of sleep for teens aged 13-18 and one hour of moderate-to-vigorous intensity of physical activity on at least three days a week for children and teens ages 6-17. The CDC also says that "Good nutrition is essential in keeping current and future generations of Americans healthy across the lifespan. People who eat a healthy diet live longer and are at lower risk for serious health problems such as heart disease, type 2 diabetes, and obesity."
"Get in touch with your body every day and move," said  Boyle. "Spending time in nature improves your mental health a great deal. We are spending way too much time sitting and looking at screens, so don't forget to take a break and breathe. Your mind and body are meant to work together, not apart."
While self-care has always been important, it's more vital than ever as lockdown has been extended and the holiday season commences. The longer the pandemic goes on, the harder people are on themselves. Many people expect that since they're home 24/7, it means that the increased amount of time they have should be dedicated to productivity. This can lead to burnout and getting behind, resulting in the opposite of our intentions.
Boyle said that in "The last week or so, the message I've been giving most students is that you are enough and that if your mind or attention is not at its optimum right now, it probably shouldn't be. This is a hard time. We're distracted, tired, and discouraged, so we have to say to ourselves, "whatever I do today is enough."
She recommends focusing on controlling what we can one day at a time. "The things we cannot control, we need to let go of. We cannot control this pandemic, but we can do the best we can with each assignment one day at a time, we can pray and put good feelings out to the world for a vaccine, and we can take care of ourselves and our family members by giving ourselves love and our family members love," Boyle said.
Be aware of your electronic consumption, know your work limit, and spend time with your loved ones and doing things that make you happy during the holiday break. It is called "break" for a reason.
Many of us are tired of the work and school demands from the past three months. Take the time to and revitalize your mind, soul, and body. Taking time for yourself is not selfish and doesn't mean that you don't care about others. It is necessary for well-being.
See what healthy effects taking care of yourself has on your routine. Remember, self-care is health care!
Graphic: <a href='https://www.freepik.com/vectors/love'>Love vector created by freepik – www.freepik.com</a>
About the Writer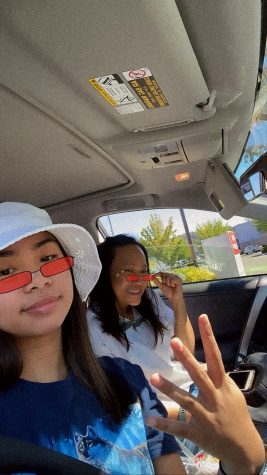 Tia Flores, Online Editor
At a staggering 5' 1 ¾", senior Tia Flores is absolutely thrilled to return for her fourth year on The Panther as co-Online Editor. In her spare time,...