Covid-19 Impacts College Recruiting Process
Every year colleges judge student-athletes based on their athleticism and skill in their respective sports. Although sports seasons were and are canceled indefinitely, Colleges still found ways to determine the best athletes for their school. Covid-19 spreading rapidly throughout the United States caused colleges to create new restrictions that would slow the spread. Part of the restrictions fell upon the athletics department and the recruitment process.
Carlie Lindsey '21 and Owen Nelson '21 have played sports throughout their entire high school career. Despite the virus suspending all sports both students were able to push through and achieve their collegiate offers.
The choice sport for Lindsey was Crew, and she wanted to continue through college. She stated that the entire recruitment process was "stressful, but in the end, it was worth it."
Lindsey first had to narrow down her options and consult with her coaches on how to continue her crew career in college. After determining which colleges, she was interested in, she drafted an email to their coaches. The email contained her "2k and 6k test scores done on the erg machine… my top race results and my status on the team over the past couple of years."
The final step in the process of the recruitment process included calls with the coaching staff. After the long process was ending, she emailed the colleges her transcripts. In the end, Lindsay determined that the University of San Diego was the best fit to continue her career in the crew.
For Nelson, his dream was to run track for Boston College. Nelson stated, "that my recruitment process while at Seattle Prep was less than ideal, due to COVID-19, but it did not stop me from pursuing my goals."
For Track and Cross country, he explained that "A track and cross-country athlete's most important recruitment season is their junior track season. Track times are more valued by college coaches since the track standardizes everyone's time."
However, this was cut short because of all Washington athletics closing to prevent the virus's spread. Nelson was devastated because colleges would have to judge his sophomore track times, which in his own opinion were "pretty average."
Wondering if he was good enough, Nelson emailed the cross-country coach at Boston College. The coach came back to him, stating that the standard race time was a staggering "9:30 for two miles (4:45 per mile)."
Knowing that he would have to work harder than he had in his entire life, Nelson and Prep Cross Country Coach Andrew Walker drew up a plan to achieve their goal of reaching a sub 9:30 for two miles by the end of October. Training and pushing himself harder and harder, Nelson finally achieved his goal on October 3rd, running a 9:38 2-mile. Nelson cut his time down by 6 seconds in around two weeks, finishing only 11 seconds from the first-place runner.
Nelson started to receive more attention from different schools, including "Gonzaga, Boston College, NYU, Fordham, Holy Cross, and Trinity." By the end of the season, Nelson ran a "14:55.9" 5k, which was "the 26th fastest cross country 5k time in the country."
Nelson's insane speed led him to be sought after by the top colleges in the country like "Columbia, Boston College, and Wisconsin." He ultimately decided to run cross country for Columbia, which has a staggering "5.9% acceptance rate."
Both Nelson and Lindsey felt solace, knowing that even though the pandemic has set many new and different challenges than ever before, they were able to push through and achieve their goal of playing their sport in their college. To reach that goal they had to work harder than they ever had, making sacrifices that others were not willing to make. Even though they persevered and accomplished what they set out to do, many fail to set realistic expectations and often do not see the same results.
"A lot of times there are the spots, there are places to play but not everyone is willing to do the work."
The athletic director at Seattle Prep, Sam Reed, continually reiterates the importance of being realistic. For example, "if you are a sophomore playing JV basketball your recruiting has not started yet." However, he stated, "Its fine to set goals, but the goals will not take shape until you are a meaningful contributor on varsity."
The dream of playing their sport of choice at a good college is a dream shared by many. Yet, the odds are so few, and many students fall short on their goals. The root of this problem is usually the student not willing to make the sacrifices and put in the work. If playing a college sport is what a student wants to do, they must "market themselves." As Reed put it: "In most cases, it's a two-way street where students have to be the one driving the car." Getting into that car starts with "work with their coaches to get a video and strong highlight real."
In addition, "they can work with various sites to have measurable, stats, times, etc. posted for coaches to see." When doing this early and showing the growth publicly can make colleges more interested in that particular athlete.
Despite this, "if you are not making an impact on your varsity roster at school you should focus on getting better… it is setting realistic expectations." Even though playing a college sport may be a dream for many, it is only the athletes that are willing to put in the effort and make sacrifices will achieve that goal, like Lindsay and Nelson
About the Writer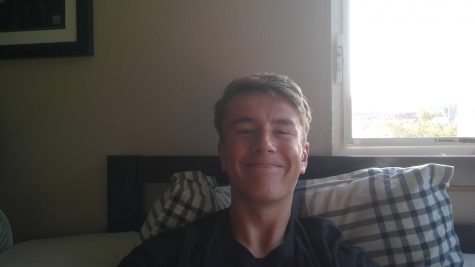 Jack Coleman, Staff Writer
Jack Coleman sophomore at Seattle Prep and this is his second year writing for Journalism. He enjoys playing soccer, basketball, and tennis. His all-time...