Students Anticipate their "Holly Jolly" Christmas Food Traditions
The holidays are a special time of the year for lots of families in the Prep community.  Traditions are an important part of celebrating the holidays, even if this year some traditions can't be honored.  Food is especially important right now, because its one thing that hasn't been affected by COVID-19.  Many people have begun to make homemade treats and dishes, instead of getting them at the store, for the love of holiday merriments.
Lucas Hamilton, '22, travels to Sun Valley, Idaho for the holidays every year, and they go to a certain special restaurant called Knob Hill for Christmas Eve dinner.  The next day, he helps his mom make Christmas dinner, which always consists of their special lasagna.  He loves spending time with his family around the table while the food traditions fill him with the "holly jolly Christmas spirit."
Senior, London McBride, always anticipates her mom's famous orange rum cakes after dinner.  While McBride wraps Christmas gifts, during Christmas Eve, her mom makes the cakes in a Bundt tin with fresh orange juice and orange zest.  When she smells the aroma coming from the kitchen, she is "excited for the rest of the day and can't wait for the first bite of cake".
McBride's mom also makes "The Potatoes" which are scalloped potatoes from their secret family recipe.  McBride loves these almost as much as the rum cakes, but the cake tops the night off with the Christmas spirit.
Eva Guarda Vazquez, '21, starts off her Christmas mornings with her family by drinking cappuccinos because her little cousins wake them up super early (before a school day would start!)  The two smallest in the family, her cousins, Massimo and Matteo, can't drink coffee yet, so they have hot cocoa with vegan marshmallows.
Some Christmas traditions may not be able to be celebrated this year, but families have upped their ante with holiday food traditions, keeping the spirit alive.  The holidays are about spending time with family and eating good food that reminds us of the small, but important moments in life, and Prep students are, no doubt, celebrating in their special traditional ways.
About the Writer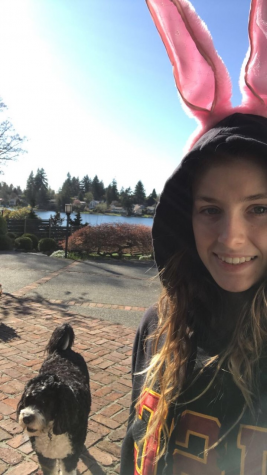 Piper Wood, Staff Writer
I'm Piper Wood and I am a senior at Seattle Prep.  This is my second year on the Panther!  I love the movie Ratatouille and my favorite dog is a Bernedoodle. ...