Woodland Park Zoo Introduces WildLanterns This Holiday Season
For the past 7 years, Woodland Park Zoo has put on the well-received "WildLights" event in which they used LED lights to recreate scenes of nature and animals along the zoo's pathways. This year, they are trying out something new, called "WildLanterns."
Placed throughout the Zoo on its pathways are more than 300 colorful lanterns that make up various scenes of animals in their habitats, including some that move around such as headbutting deer and venus fly traps. There are land animals, sea animals, and even flying animals!
Sophomore Charles Cook, who rates WildLanterns a 7/10 overall, describes the attraction as "spicy" and "cool." He recommends, if you have the time and money, to definitely check it out. "[The displays] looked very cool and were well done, and Covid restrictions were followed," Explains Cook '23, "The monkeys were pretty great. One of the monkeys was on a bike and I thought that was pretty neat."
Among animal lanterns, the Woodland Park Zoo also had attractions such as a touch-sensitive walkway that visitors can run along to make music and a large space with mirrors and laser-style lights, almost like a walk-in laser kaleidoscope.
Admission is $23.95 for children ages 3-12 and $28.95 for adults, which can be bought in person or online at zoo.org/wildlanterns. They are adhering to state Covid guidelines, operating at 25% capacity and requiring face masks for visitors over the age of 5. This event runs until January 17, 2021, and is open every day except Monday from 4-8:30 pm.
About the Writer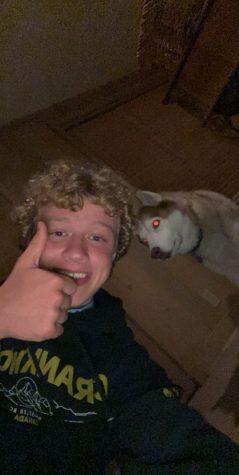 Nick Pickel, Staff Writer
Nick Pickel is a sophomore at Seattle Prep who has been working with the Panther since freshman year. Nick likes being outside on hikes, walking with friends,...