Ms. Ritchie's Triathlon Triumph
Eighty of anything is a lot, but eighty triathlons? That is insane! Ms. Ritchie is a Health and Exercise Science Teacher at Seattle Prep, and she is also a successful, committed athlete. Testing endurance, mental toughness and strength, triathlons provide a mix of challenges and Ritchie loves them. For triathlon hopefuls, Ritchie suggests, "Just give it a go, if it's for you, you'll know." Triathlons are definitely for Ritchie. Over Thanksgiving break, she "sat down" on Zoom and shared some of the reasons why she loves competing in Triathlons.
Question: How did you become interested in running triathlons?
(Ms. Ritchie's) Answer: "I was a team's sports person, I was a basketball player through college and after that, and pretty soon there aren't enough teams and women's teams and players that want to play, so I got involved in an individual sport, which was triathlons."
Q: What motivates you to run triathlons?
A: "I've always enjoyed exercising, and I've always been very competitive, so it's a good combination of getting exercise, and having some goals.
Q: Can you describe your normal training routine?
A: "Normally I run 3-4 miles every other day, and I cycle 10-20 miles every other day. I exercise regardless of whether I have a race, I pretty much do the same thing all the time. I would normally be swimming also, which I'm not now."
Q: Would you rather train in natural environments or man-made environment (ex. Pool vs Ocean/Stationary Bike vs. Real Bike/Treadmill vs. Trail)?
A: "I prefer to swim in open water, rather than swimming pools…I am not a gym person, so I'd much rather run on a trail or a road…same with biking, I have an indoor bike trainer, but I would much rather be outside."
Q: What is your favorite time of day to train?
A: "I like to train in the morning….so I don't forget to do it and it starts my day off good"
Q: What is your most memorable triathlon?
A: "I raced the World Master's Games in Australia and I won a gold medal for my age group in that. That was a good race, it was hot, a lot of people were dropping, but I finished, and I won."
Q: What section of the triathlon do you think is the most difficult?
A: "The most difficult I think is the running, because it's at the end after you've gone as hard as you can on the bike."
Q: How has your training changed since we have entered quarantine?
A: "It has pretty much stayed the same because I don't exercise just because I'm racing. It is good to just get out. I am kind of enjoying not necessarily training for anything, so I do not need to check my time. I can also sightsee a little bit while I am biking. It is just a different mindset."
Q: When do you hope to be running your next triathlon by?
A: "It's hard to tell like everything else…I'd say the soonest I would probably get to run an in-person race if I'm lucky is the middle of summer. I'm hoping for July or August."
Q: What is the first thing you do after finishing the triathlon?
A: "The first thing I do is take a deep breath and say a quick prayer that I finished, and look at my watch!"
Q: What is some advice you would give to someone preparing for their first triathlon?
A: "The actual race is a just a culmination of everything you do prior to that. Just have fun training, getting exercise, working out. So, when you get to the race, it's kind of the easy part, the training is the hard part, the buildup."
Q: What is something you've learned about yourself from completing triathlons?
A: "I have learned that even though I'm competitive…I can still workout and not have to be working out just because I have a race. I'm working out because I'm healthy, motivated, and happy I'm still able to train."
Ms. Ritchie was supposed to compete in Nationals for her age group in the summer of 2020; however, just like so many other things, the event was cancelled because of Covid-19. Despite this setback, she has continued to train, enjoying the outdoors and, like always, appreciating the exercise.
About the Writer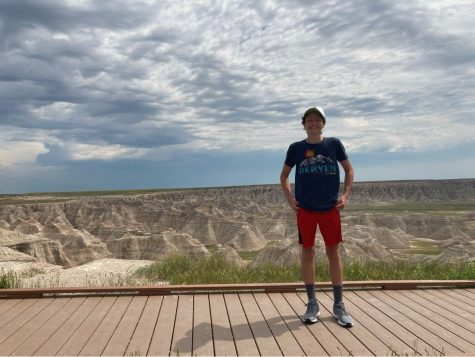 Eamon Mohrbacher, Staff Writer
Hi! My name is Eamon Mohrbacher and I am a freshman at Seattle Prep. I enjoy playing soccer, basketball, and golf, and I love to read. I live with my mom,...