Three Prep Athletes Commit to Collegiate Athletics
November 11th, 2020 marks a very important day for three Seattle Prep seniors—Nick Kuebler, Maddie Mooney, and Tamia Stricklin—signing day. The recruiting process for these athletes ranged from roughly one to four years long, but that process officially concluded last month with all three athletes signing their National Letters of Intent to Division I schools.
Basketball player, Tamia Stricklin, committed to continuing her athletic career at California State University, Fresno. Her original plan was to hold off on verbally committing to a school until the beginning of her senior year—after playing in her last AAU season, officially visiting more campuses, and understanding the environments of each school. However, when COVID cancelled the AAU season, she knew it would prolong the process until her senior year, a level of stress that concerned Stricklin. Stricklin ended up committing verbally to Fresno State in April, much earlier than expected, but nevertheless, "one of the most memorial days [her] life."
Luckily, Stricklin had the opportunity to visit Fresno State before COVID hit. On this visit, Stricklin was able to tour the campus, meet the coaches, and observe a practice, all things that drew her to the school more. Stricklin was set on playing in college thanks to her older brother, who plays collegiate basketball at George Fox, who she credits with shaping her into the player she is today by sharing his wisdom from his own experiences and supporting her through this process. But, Fresno State became her obvious choice after "[seeing] the team and coaches in action and reflecting after the visit, [she] felt [she] could see [herself] there. The coaches were amazing and it really felt like they were going to take care of [her] if [she] went there."
Nick Kuebler has been dreaming of being a Stanford gymnast since 4th grade, and his dream finally came true on signing day. Kuebler was lucky enough to wrap up all of his major competitions before COVID, making recruiting less stressful from that standpoint. Stanford was his number one choice because of the prestigious academics, renowned athletics, and opportunities to work with teammates who are among the best in the nation. Signing his National Letter of Intent was a huge step for Kuebler's gymnastics career. In a recent interview by Chris Egan from King 5, Kuebler shared that he has never been fond of "dreaming big", but instead he prefers to set goals or as he likes to put it, "goal big". Now that he has signed to Stanford, his future goal in focus is to win at the Olympics.
In the same King 5 interview, Kuebler's coach, Eli Richardson, shared that Kuebler is "definitely the most talented gymnast I think that I've seen. Just pure natural ability and really dedicated."
As a dedicated member of Seattle Reign Academy, Maddie Mooney has been attending several soccer tournaments and ID camps full of college recruiters and coaches over the last three years. After speaking with coaches over the phone, Mooney verbally committed to the University of Notre Dame in the fall of her Junior year. Mooney was stoked to have found the school for her and is looking forward to "[competing in the ACC], [playing] at the highest level, [training] with an amazing coaching staff, [meeting] new teammates, [putting] on the Notre Dame uniform, and [doing] [her] part to help Notre Dame compete for a National Championship."
Although COVID prevented Mooney from further returning to the Notre Dame campus for camps and team bonding, she is still confident that the coaching staff, amazing facilities, and academic level will make Notre Dame the best place to continue both her athletic and academic careers. She shared how on her initial visit she "felt the sense of community, saw the tradition, and stood under the famous Golden Dome legendary with Notre Dame and knew this was the place for [her]."
Mooney shared how her college recruiting process had its ups and downs and the occasional doubts would creep in. In her three year recruitment process, "sometimes an opportunity with a college [she] really wanted to see didn't go [her] way, or at an ID camp, [she] did not perform as well as [she] knew [she] could.  But the flip side of that is when [she] did have a good day, it was a great day, and for [her], those outweighed the bad." Officially signing on November 11th, solidified all of those good days for Mooney.
Stricklin, Kuebler, and Mooney have been hard at work throughout all of high school, constantly pushing themselves harder and harder both academically and athletically. All of their hard work has paid off, and Seattle Prep congratulates them all on their incredible collegiate commitments. Go Dogs! Go Stanford! Go Irish! And of course, Roll Prep always.
About the Writer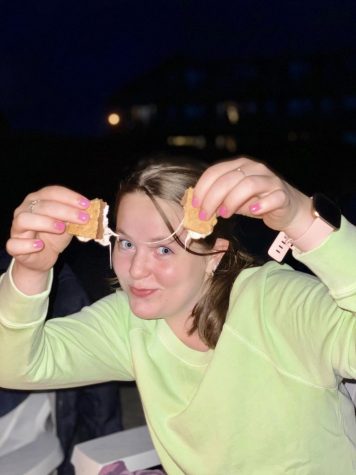 Natalie Nowak, Online Editor
My name is Natalie Nowak and if we weren't in the midst of online school you could find me running in group 3 of the cross country team or playing on...