Customizing Kicks: Senior Chloë O'Meara Paints Shoes
Senior Chloë O'Meara turned her artistic passion into a business. What? How? Painting shoes.
O'Meara has always been interested in art. In seventh grade she brought her hobby into her wardrobe when she began painting her shoes. What started out as a hobby for O'Meara, evolved into a business as people began asking her to paint designs on their shoes. She said, "I have been making art my whole life and I like exploring different ways to express my artistic ideas. It started off as me painting my own shoes and then people began seeing them and wanting them.''
The process of painting designs on shoes varies depending on the intricacy of the design. It usually takes a couple hours; however, some designs are too intricate to be done in one sitting and take a couple of days to complete. O'Meara shared that, "the process can take a really long time, but it is something that I enjoy doing and seeing people wear the final product makes it all worth it."
Her personal favorite design was one she did for Kendin Alexander '21. As one of the most intricate designs O'Meara has completed, this particular pair of shoes took her days to complete. Alexander stated  "she had really good attention to detail and I thought the finished product came out really well. I would ask her to design another pair of shoes 100%".
O'Meara describes that the best part of painting the shoes is seeing people wear them. She explained, "when I see people wear something that I created, it feels like they are supporting me and I feel proud that they like what I have created for them."
About the Writer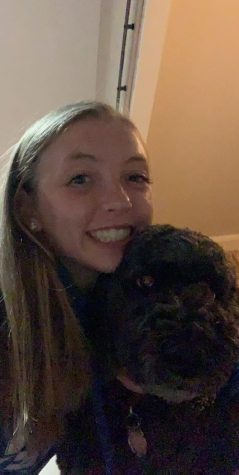 Olivia Manning, Staff Writer
Hi, my name is Olivia Manning and I am a senior here at Seattle Prep. I was freelance writer for the newspaper sophomore year and I am excited for my second...