Prep's Female Athletes Find Motivation in Weekly EmpowHER Hours
When the word "athletics" comes to mind, many students are likely quick to think about their workouts, drills, practices, and gameday. However, Varsity Girls Lacrosse Coach and Prep faculty member, Ms. White, has been emphasizing the mental side of sports with female lacrosse players and swimmers. Every Monday since October 5th, and continuing through December, White along with the other lacrosse and swim coaches has been leading zoom calls known as EmpowHER Hours.
The goal of these sessions is to let Prep's female athletes find a positive perspective, develop metal skills, and gain confidence in their abilities to improve their overall game. All of this comes from discussions on the EmpowHER hour zoom call, because it is a time to familiarize oneself with their fellow athletes. Freshmen swimmer and lacrosse player, Courtney Stockwell, shared how her first discussion reinforced the importance of  "girls empowering other girls, because there are a lot of examples in female athletics where the women are brought down by one thing or another."
Senior Lacrosse and Swim team captain, Molly Bevan expressed her realization that the girls teams tend to have less of a crowd at games and it brings a sense of being overshadowed. However, the EmpowHER hour has become a space to share her athletic experiences because despite the struggles, "athletics have shaped my life and who I am… they have also given me a way to relieve my stress and clear my mind. They have taught me many valuable lessons that are still important in my life. "
The first meeting began with each of the six coaches sharing their stories as female athlete. White shared how being a woman in a male dominated sport, hockey, she had to work hard physically and mentally to be successful in the sport. It was the initial support from her family, and later on her teammates, that helped her gain the confidence to keep pushing. She emphasized that, "I've found such great strength and power in supporting one another to go after all of our goals."
If female athletes are looking to improve their mental game an connect with other female athletes at Prep, EmpowHER hours are open every Monday at 7:00, just email White for the information at [email protected]
White's biggest take away for all of Prep's female athletes was this: "Embrace greatness. You are allowed to be a strong, confident athlete who accomplishes her goals on and off the field."
About the Writer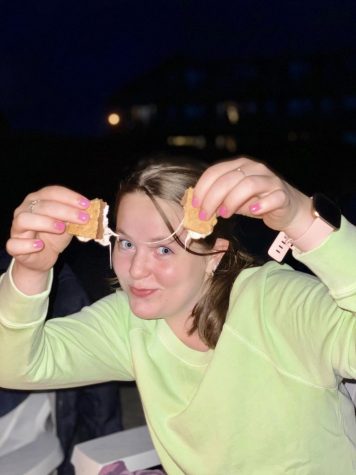 Natalie Nowak, Online Editor
My name is Natalie Nowak and if we weren't in the midst of online school you could find me running in group 3 of the cross country team or playing on...