Spooky Nights at the Kounellas' Household Bring Friends and Horror Together
The Halloween season is upon Seattle Prep students.  Many have found ways to celebrate the spooky holiday in a COVID friendly way and are creating new traditions to rev up their Halloween spirit.  One senior has made their love for horror into a movie festival with friends and family.  Carolyn Kounellas, '21, loves the idea of being scared.  Whether it's a haunted corn maze, a scary movie, or freaky Halloween traditions, she never gets scared, even though she loves the thought of it.  Since middle school, she has been watching scary movies on the weekends, but because of high school busyness, she hasn't been able to do it.  This is her "final excuse to get to watch them with [her] friends."
The Halloween queen decided to organize movie nights where she can watch movies with small groups of friends, while being safe and staying healthy.  She started by putting together a list of all the horror movies she's ever seen, and then got some recommendations from others.  By creating group chats, Kounellas gets a couple of friends rounded up and they choose a movie to watch on a certain day.  She has a mix of classics, such as "The Shining" and "Halloween", and some new movies, like "The Conjuring".
Her inclusive and kind attitude makes her think of others who still want to participate in the fun, but under no circumstances will watch a horror film.  Instead, she suggests funny, but spooky movies, like "Scooby-Doo",.  Throughout the spooky season, Kounellas, has planned "over 30 movies, and at least 10 have already been done".
For now, most of the prearranged movies she has already watched, but she loves to re-watch them and experience them with some new moviegoers.  Since she doesn't get scared easily, she plans to watch every horror movie so she can "keep on watching until [she] finds one that is actually scary to [her]."  She keeps the Halloween spirit alive and encourages others to do something similar, to enjoy the holiday safely during COVID season.
About the Writer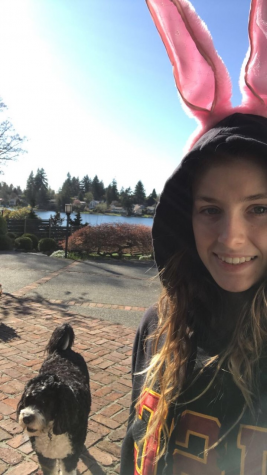 Piper Wood, Staff Writer
I'm Piper Wood and I am a senior at Seattle Prep.  This is my second year on the Panther!  I love the movie Ratatouille and my favorite dog is a Bernedoodle. ...