Zooming Into Senior Year with Virtual Senior Pilgrimage
Toast, pets, rocks, and Zoom. What do these words have in common? These are four words that sum up this year's virtual Senior Pilgrimage retreat. Because of COVID restrictions, the Seattle Prep Senior Pilgrimage was moved to an online format with only 3 weeks for preparation. Community Ministry and Theology teacher, Mrs. Bernal, led her Senior Faith in Action class to plan the retreat in the virtual format for the first time in history. According to students after the retreat, it was a success!
Fellow Community Ministry and Theology teacher, Mr. Mack, joined Mrs. Bernal in planning the retreat over the summer. Bernal said that they had to plan for different ways to do the retreat during the summer because it was unknown whether Prep would be holding in person classes in the fall. Unfortunately, the traditional 12-mile hike and overnight stay at Camp Seymour was off the table, so they were forced to be creative. Bernal said that the initial plan consisted of a walk through Interlaken Park where groups of students would stop at stations to listen to talks by their classmates. These students doing talks would repeat their talk for each group. However, after Prep was moved to all online format, Bernal and Mack knew that the retreat would need to follow these guidelines as well. So, Zoom it was!
With a shorter turnaround than usual because of school starting a week later than usual, Bernal contacted her Faith in Action class in the weeks leading up to school so they could get started on planning. It was a difficult process to condense the retreat from 48 hours to about 8 hours. Bernal was very glad her class was "very willing to help out" and said it was a lot of work outside of class. When comparing the planning for the virtual vs. in-person retreats, Bernal said that they are very different, but communication was the hardest part for the virtual retreat. She recalls having to text people the night before to make sure that everything was done. Regarding the planning process, Bernal said that she, "loved the creativity of students and the ideas they came up with."
The rectors of the retreat included Margaret Felton '21, Adora Pham '21, and Sam Carlson '21. Their roles consisted of writing the script, being on campus for the retreat, introducing speakers and activities, as well as keeping the energy going for the Seniors throughout the retreat. Reflecting on the retreat, Felton said, "It went way better than I imagined! We didn't really know what to expect because technology can be glitchy and it's hard for people to stay engaged and interested over Zoom. However, things ran surprisingly smoothly, and I think the games and activities helped keep people engaged."
Although this virtual retreat is hard to compare to past retreats, the class of 2021 expressed their appreciation for how organized the Faith in Action class was in planning the retreat and the effort they put in to make it fun. During the retreat, students got the chance to hear from their classmates in small groups and an open mic. Senior Isaac Trius said, "I didn't have high hopes for an online retreat, but the crew did a really good job and it exceeded my expectations… I thought it strengthened my bond with my friends, but I heard some really cool insights from other students that I wasn't really close with."
Some other favorite activities from the retreat included a singing performance by Fr. Celio, SJ and Fr. Rallanka, SJ. "I was entranced!" said Felton about the serenade. Bernal especially liked the chat feature on Zoom during the retreat because she said it gave students an opportunity to affirm one another and not feel so distant from each other. The students also got to participate in a talent/pet show, reading their freshman letters, playing games, and receiving Senior Suitcases filled with gifts, including shirts.
Abigail Emert '21 got a lot out of the retreat and appreciated that this was the first time she has spent with her whole class in a long time. She captured the essence of the retreat when she said, "I enjoyed seeing people's faces and talking to some people I had not seen in a while. It helped me understand that we are all kind of in the same boat as seniors and that was comforting."
About the Writer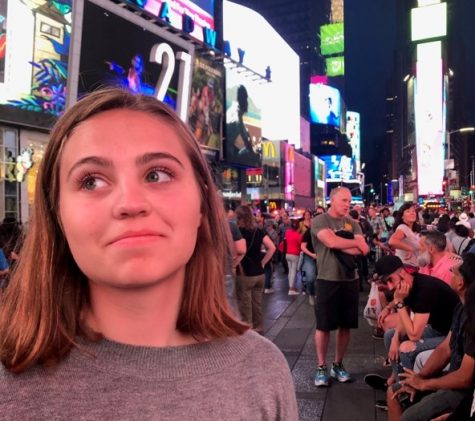 Paige Stanley, Editor in Chief
Paige Stanley is a Senior at Seattle Prep and is very excited to be serving as Co Editor-in-Chief of The Panther this year. This is her third year on the...