Nonstop Work Grind For Prep Students This Summer
While this summer was full of masks, social distancing fun, and new hobbies, things were a little different than normal, to say the least. But these unprecedented times did not stop the hustle for a few of these prep students who were lucky to have the opportunity to continue working and doing different programs and internships this summer! Students Reese McNally '21, Greta Bowman '22, and Marco Bonjrada '21 were among these students who used this summer of no sports and free time to their advantage.  
McNally '21 has been accepted into the Junior Health Scholar's program at Swedish Hospital over the summer. The Junior Health Scholar Program allows high school students to shadow a current Health Scholar and observe how the patient care and administrative teams work together to deliver excellent care and to explore whether a career in health care that right for you. McNally '21, explained that her favorite part of the program so far has been, "being helpful to the nurses and NAC in the hospital. I also really enjoy interacting with the patients, making their stay a bit easier and more enjoyable".  
Specifically, in the program, scholars are given the opportunity to observe care in various clinical environments. Some of these environments may have graphic content, including but not limited to, patient nudity, graphic skin conditions, open wounds, injuries due to weapons, patients in distress, and graphic language.
This program is perfect for individuals who are looking into a career in the health care field. McNally said, "My future career aspiration is to become a pediatrician at a children's hospital. I also want to do Doctors Without Borders for a couple of years after medical school before getting a job at a hospital or clinic". 
Junior Greta Bowman spent her summer poolside lifeguarding. Bowman '22 lifeguards at Sand Point Country Club and explains how things were very different this summer at the pool. She said, "Not having group swim lessons was a big bummer this summer as it is the staff's favorite part of the job. We also had a lot of different new cleaning regulations, as well as only having lap swim". 
Although there were many changes in regulations and procedures some changes were actually beneficial to Bowman and the rest of her staff. She said, "Shorter and fewer hours were beneficial so there was more free time to get work done, be around my family, and see some friends".  
For next summer, Bowman said, "I hope and look forward to being with my community and making the pool fun and alive again". 
Lastly, Marco Bonjrada '21 had the fun and satisfying job of making crepes in his Dad's crepe truck in Magnolia! At work, Bonjrada said, "It was cool being able to meet and interact with more people in my neighborhood". 
Bonjrada's favorite part of his job was, "being able to work with my dad and learn how to make crepes". 
These Prep students are hard workers who took advantage of their time this last summer and used it to gain career insight and experience as well as integrated into a work environment. 
About the Writer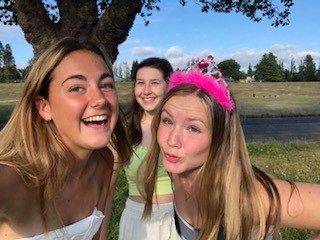 Caroline Casey, Staff Writer
Caroline Casey is a senior at Seattle Prep and she is so excited for her third and final year on the Panther staff! She loves playing soccer, swimming,...