Seattle Prep Students Take Action for the Seattle Clemency Project
Seattle Prep has always been active in the social justice world. Whether it is through their various clubs and organizations to the 'Day of Service', Prep students have many opportunities to engage in their communities and strive to create change. This year, Seattle Prep partnered with the Seattle Clemency Project. According to Diversity Director Deino Scott, 'the Clemency project is a nonprofit that represents people who have been given unduly heavy sentences."
Washington State's prison population has been growing steadily after the parole was abolished in 1984, and then later through 'the 3 strike rule' in 1993. The Seattle Clemency Project or the SCP for short was founded in 2016 by two criminal defense attorneys named Jon Zulauf and Jennifer Smith.  It is stated on their official website that "the lack of legal representation to seek early release through clemency – the only available path to early release – compound the racial, economic and other inequities many face in the criminal justice system."
The Seattle Clemency Project has been actively working towards creating a more just court system for those looking to find an early prison release. Since the organization was founded four years ago, they have freed 24 individuals from unjust sentences along with saving 10 people from being deported.
The Seattle Clemency Project already had close ties with Seattle Prep prior to 2020. Scott said that "the founder approached Mr. Hickey late last spring. She is a Prep Parent."
So how did Prep students get involved with the Clemency Project? SCP member and Prep student Aiyanah Kasota (22) revealed that Coach Scott was 'emailing opportunities and internships to students.' These internships, according to Coach Scott, 'were offered to ASB officers, Mock Trial participants and members of various clubs. BSU, APIC, and FIG members also participated' in helping the organization out.
Kasota is a part of the Communications team with six other Prep students. Their role is to gather information about the Clemency Project. Previously, they have been assigned to send out flyers promoting a Zoom call they held for people that were interested in the organization. When asked about her favorite moment as an intern, she said: 'we all did really well keep each other updated and involved in the work that each of us, individually, were doing. Additionally, we all worked well together."
This summer, various affinity clubs at Seattle Prep came together to support the Seattle Clemency Project and the Black Lives Matter movement. They designed a 'Seattle Prep Black Lives Matter' t-shirt, where all proceeds went to aid the Seattle Clemency Project.
The Seattle Clemency Project has greatly appreciated Prep's efforts and Asota claims they will continue to cooperate with the SCP in future projects: "we are planning to do a collaboration with the Seattle Jesuit Restorative Justice Initiative which will be happening soon, and I am very excited to work with them and continue to work with the Seattle Clemency Project."
About the Writer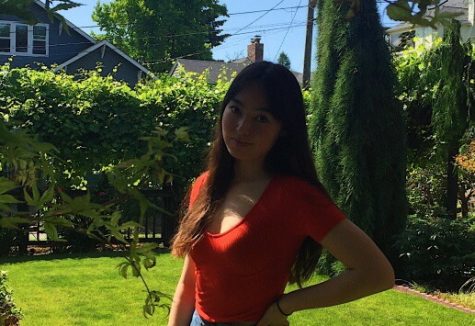 Kelly McGarry, Staff Writer
Kelly is a senior and this is her second year as a staff writer for the Prep Panther. She has a serious pigeon phobia. Her favorite movie is 'Eternal...