A Quarantine Hobby Turned Business
Lauren Brant's Cake Baking Journey
Seattle Prep students took on several new hobbies over the long months in quarantine including puzzles, jewelry making, arts and crafts, and even knife throwing! A popular hobby many students tried was baking but, one student took this pastime to the next level. Junior Lauren Brant turned her baking ability and decorating talent into a quarantine job. Brant struggled to find an available job due to the pandemic so she found her own innovative way to make some money. Brant said, "I've always had a passion for baking and use it as an outlet when I'm stressed or need a fun activity to do. I also wanted to brighten people's spirits a little by dropping off delicious baked goods for them."
In a difficult time , selling baked goods is an incredible way to brighten people's spirits. The business was mainly run and controlled by Brant herself with some support from her mom on gaining customers. Her products included a variety of cakes, cookies, muffins, and pies with a delicious carrot cake as her top seller. Brant also has an eye for decorating cakes as she made several birthday cakes, graduation cakes, and even cute ones to snack on. One of her customers Jayce Woodward '22 said, "She decorated it beautifully with pink frosting and all sorts of pretty flowers. It was one of the best cakes I ever had. Ever since I have made her make me lots of special and delicious cakes."
Quarantine has been difficult for everyone around the world and has drastically changed lives. The benefit of this time at home has allowed for people to spend time with their family and appreciate the little things in life. Brant even mentions, "I have been baking since I was five years old and my grandma taught me everything about baking that I know today."
This time at home allowed Brant to follow her grandma's baking tradition and try something new. In a world of uncertainty, Seattle Prep students still find a way to find kindness and joy in their lives.
About the Writer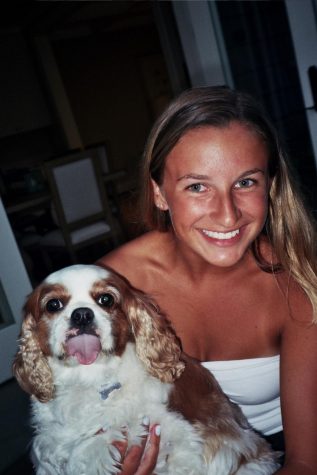 Annabelle Deasy, Staff Writer
My name is Annabelle Deasy and I am a Junior at Seattle Prep High School. This is my first year as an official staff writer on the Panther, but last year...