New Faculty Profile: Sam Reed
Basic Info:
What are you teaching/working on at Prep?
I am taking over the as the new Athletic Director and will be working with all of your Program Heads and coaches to provide great opportunities and memories to current and future Panthers.
Where did you grow up?
I am born and raised in the 253, growing up in the Fife/Milton area.
What College or University did you attend?
I am a proud Zag, graduating from Gonzaga University in 2002.
More About You:
How did you spend your time during quarantine?
Nothing too much…just changed jobs, got stuck on the other side of the West Seattle bridge closure, spent a couple months as home school teacher to my two boys, bought and sold a house, made socially-distant road trips to San Francisco and Spokane to see family and got busy in the kitchen mastering the art of making sourdough.
Who do you admire (famous or not famous)?
Great (and hard) question. There are specific traits that I admire about so many people. I admire the joy with which Ken Griffey Jr. played baseball.  I admire the focus and determination that propelled Tiger Woods to stardom.  I admire the grace and humility that Barack Obama led with.  The list goes on, but even more than those starts, I admire so many of my former student-athletes, many who overcame great obstacles in high school and have gone on to graduate college, land great jobs, become great husbands and wives and leaders.
Do you have any hidden talents?
It would surprise many that I was received an art minor in college.  During my time at Gonzaga I spent two years being in charge of painting "the wall" on the center of campus and also painted a mural in what was then the weight room in the gym.
Your High School Experience:
Where did you go to high school?
I was a Fife High School Trojan, graduating in 1998.
What was the most popular song during your senior year of high school?
I definitely bought a CD player for my truck just to play Mark Morrison's Return of the Mack and Next's Too Close.  Classics 😊
What career did you want to pursue in high school?
At the time I envisioned myself a sports journalist.  Not too far off!
What is some advice you would give to yourself in high school?
Don't take the easy way out.  After my senior year of basketball wrapped up, I was burnt out and wanted to just hang out instead of playing baseball.  I wish I would have had someone tell me that the window to be a student-athlete is so small, and to enjoy the opportunities that you have.  Instead I took the easy way out and missed out on a final season of playing high school sports.
Random:
What superhero do you most identify with?  Why?
Superman.  Superpowers aside, I want to be known for my consistency, my humility and my servant leadership.  Superman had his weaknesses, but he showed up every day, worked hard, and tried to make the world a better place for others.
What preparation of potato are you? (fries, baked, sweet potato, hash, etc.)
The perfect french fry. I'm a big believer in the classics.  I've never been accused of being flashy (curly fry) or trying to be too cool (the tot), but I do try to do the basics better than they've ever been done before. Perfectly crispy on the outside, hot and fresh on the inside with just the right amount of salt to keep you coming back for more. Classic.
Your intro song if you had a TV show about you?
"The Sound of Sunshine" Michael Franti & Spearhead.  Not sure why, it just makes me happy.
If you could arrest a person for something that annoys you (but isn't necessarily a law) what would it be?
I have a long list…Let's start with the person in the grocery store who stops in the middle of the isle to look at the shelves without looking around or moving off to the side to let others pass.  Ugh!
Complete the sentence:
I'd love to go back to…
to Argentina.  Best vacation/travel experience I've ever had.
If I weren't working at Prep, I'd be…
cooking in my kitchen.
This year, I am excited for…
the opportunity to make the best of a difficult situation.  I am optimistic that we can still make this a great year for all of you Panthers!
About the Writer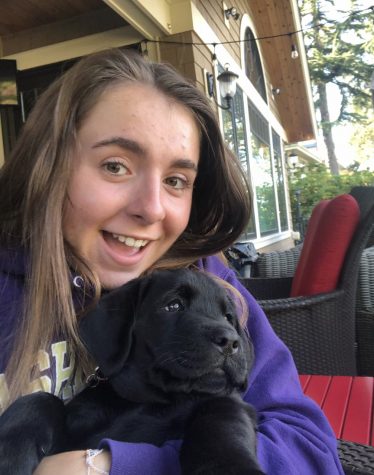 Kate Ridgeway, Managing Editor
Kate Ridgeway is a junior at Seattle Prep and she is co-Managing Editor for The Panther this year. Kate is an avid laxer and golfer but unfortunately has...