Prep Seniors March to Their Next Step at Service Academies.
Two seniors in Seattle Prep's class of 2020 have decided to attend service academies, Cooper Klein and Maya Ghali. While the application may be daunting, there are many benefits that Klein and Ghali are excited to experience. In exchange for free tuition/room and board, students are required to serve for several years after graduation. Klein and Ghali's family histories in the military differ, but both agree that it is worth the extensive application process to be a part of these prestigious institutions.
Klein will be attending the United States Military Academy at West Point next year. Klein has always had the idea of attending a service academy on his radar because his father attended the Naval Academy. Klein explained, "When I was in fourth grade, [my dad] brought me to a parade with all of the Naval Academy students. After that day, I knew I wanted to go to one of the academies and become an officer."
On the other hand, Ghali, who will be attending the Naval Academy in Annapolis, Maryland had an opposite experience. Ghali does not come from a military family and had not considered attending a service academy until her junior year. She attended the Naval Academy's summer seminar before senior year which allowed her to spend a week in Annapolis and see what life is like at the Naval Academy. She said, "I had the best experience and knew that the intense structure, discipline and athletic aspect was something that I wanted. But more than that, my desire to serve my country and become an officer are what ultimately led me to apply."
One of the main things that steers students away from the service academies is the application process. Klein and Ghali explained that the application process for each school includes common application aspects such as teacher recommendations, test scores and essays. However, in addition, each applicant must complete a fitness test, medical qualification, an interview, and receive a nomination from a congressperson. Despite the extensive process, Klein said, "Even though the application might seem overwhelming, I encourage anyone who is interested in serving their country to apply to a service academy."
Despite coming from different military backgrounds and deciding on different schools, Klein and Ghali both claim to be most looking forward to being in an environment where everyone is striving to be the best leader, student and athlete that they can possibly be. Ghali explained her interest in being a part of "the rich history and traditions of the Naval Academy" and Cooper Klein is "excited to be going to a school where hard work is so heavily emphasized and rewarded."
Both Klein and Ghali are planning to report to their respective academies in June to begin their training period. One of the important ideals that comes with attending a service academy is school pride and a friendly rivalry. While Ghali ended her interview with "Go Navy Beat Army" Klein ended with a "Beat Navy!" It is clear, Klein and Ghali will be bringing the school spirit they learned from Prep on to their respective academies.
About the Writer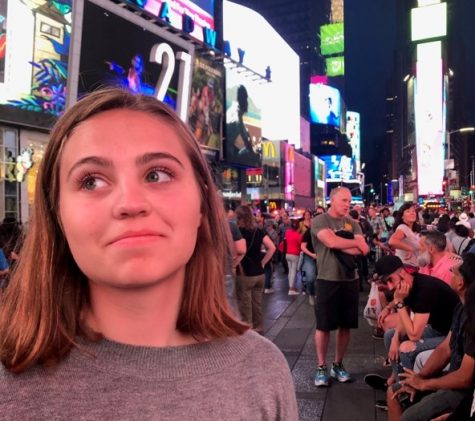 Paige Stanley, Editor in Chief
Paige Stanley is a Senior at Seattle Prep and is very excited to be serving as Co Editor-in-Chief of The Panther this year. This is her third year on the...