Yearbook Perseveres Through Coronavirus
The difficult decision for Seattle Prep to close its doors on March 12 left many school clubs scrambling to plan for the transition to online school, but none more so than Seattle Prep Yearbook. The staff had already spent over six months working and collaborating on the yearbook together when the news of school being cancelled broke. Luckily, due to the quick and creative thinking of Mr. Danielson, the upperclassmen on staff were able to take home computers from the lab to continue editing and designing pages.
"The computers were a lifesaver—they really made the process of working from home much more manageable," said Carly Condon '21.
The yearbook staff had to adjust to working from home instead of being face to face every day. They got creative by staying in touch through text message group chats, Facetime calls, and Zoom sessions with Mr. Danielson. "The transition definitely was not easy, but I can confidently say that everyone worked extremely hard to do their best despite the circumstances" said editor Grace Brant '20.
Another major challenge for the staff was covering the spring sports section of the yearbook. Because the spring sports season had just began, the yearbook had not had a chance to take photos of the teams in action. So, on the very last day of school, the staff scrambled to get to each and every team's practice to take pictures while they had the chance. When all spring sports were officially cancelled for the year, many schools decided to omit the spring sports section entirely. The Prep yearbook staff decided to take a different route. "The goal of the spring sports pages this year was to pay tribute to the seniors, especially the captains who we knew spent all year preparing for their season," said Tess Johnson '20.
Other end-of-the-year events like Olympic week were not able to be included in the yearbook. To fill the empty pages meant for them, the staff did a spread on the COVID-19 virus and how it has affected the Prep community. Brant said, "we felt that because the yearbook is a time capsule of 2020, it was only appropriate that we highlight the pandemic that took the world by storm."
Despite the extra challenge of working from home and redesigning the content of the yearbook, the staff was able to finish the book on April 20th. Prep students can expect to receive their yearbooks very soon!
About the Writer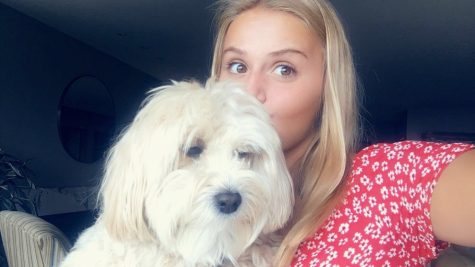 Cara Weigand, Staff Writer
Cara Weigand is a senior at Seattle Preparatory School and has been a member of the Panther staff since junior year. She enjoys experimenting with different...