ZOOMing Through UN
One of the most well-known sophomore projects is just around the corner: Model United Nations. But this UN will be extremely different than before because it will be done virtually. Typically, UN comes with the stress of notecards, speeches, and essays, but the sophomores this year must navigate it over Zoom.
Ella Shigo '22, delegate of Turkey said, "I'm excited that the teachers are making the effort to have a virtual UN, but at the same time I feel like it won't be the same."
Margaret Sauvage '22, delegate of Russia, said "having UN over Zoom makes me feel pretty nervous because I'm not really sure what to expect since other grades haven't done it and we've only watched in person UN."
UN is usually a two-day event of working with a partner to support a country's belief on different resolutions and issues. This takes place after months of hard work and research. Along with a partner, a sophomore works collaboratively with a committee of their peers on creating a resolution for a specified area of research.
Shigo is on the Global Development Committee, "my least favorite part is definitely not being able to meet and talk with your committee members in person, it is a lot harder at home, you feel more isolated and individualized."
Ms. Slack, one of the Regis Collegio teachers said that she understands how the students are feeling, "they might have more time in their schedules, but it's harder for them to get motivated while in isolation, especially when their final UN experience will look so drastically different than it has in the past."
A crucial part to UN is researching a country as well as many other nations to prepare for questions while on committee and off of it.
Shigo feels that "it's a lot different emailing the librarians, they are amazing, and they respond super-fast, but it is difficult sometimes finding resources, book recommendations, or fixing something if it isn't working."
Junior Chloë O'Meara felt that "online UN would be less stressful, not having to stand up in front of everybody at the microphone, their statements would be more concise and to the point and there wouldn't be as many nerves."
But UN in person "allows a great public speaking opportunity but this is the best that we can do under these circumstances" according to O'Meara.
Ian Elsbree '21 thought that one of the biggest struggles of not having UN in person would be not being able to meet with other countries during the allowed time. But he did come up with a possible solution: "use a Discord server in which every nation's table would be represented by a voice channel that other delegates could join, as if walking over to another country's table to discuss matters."
After the time is up for meeting, a message would be sent out to call everyone back to a larger video call.
Elsbree also stated that the professionalism of UN could be forgotten because it will not be in person, "I remember in my Model UN experience there were multiple speakers that made arguments that would most certainly fit with their countries' views, but it didn't really make sense for the person making them to give unless there is the constant reminder of 'oh yeah, they're representing a country I don't agree with personally' that comes with them standing at a microphone amongst a crowd of tables adorned with national symbols."
But no matter what, United Nations at Prep teaches sophomores how to come up with solutions for prevalent problems and work with other countries to create these solutions, which is exactly what the world needs now.
About the Writer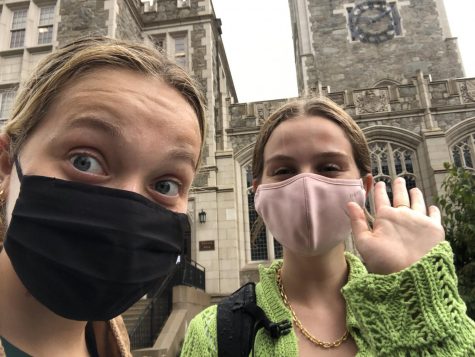 Cece Brown, Visual Editor
Cece Brown (sometimes known as Cecil) is a senior at Seattle Prep and she is a Co-Visuals Editor this year. She has been on the staff since sophomore year....